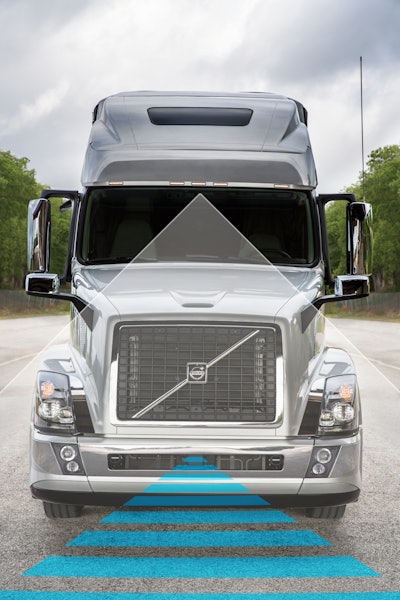 Volvo Trucks North America Monday during the American Trucking Associations (ATA) Management Conference & Exhibition in Las Vegas introduced Volvo Active Driver Assist, a comprehensive collision mitigation system that combines both radar and camera capabilities to provide emergency braking and help drivers maintain a safe following distance through alerts and interventions.
Volvo currently is the only OEM to fully integrate the system into its Driver Information Display, so no additional display units or prep kits are needed, which Göran Nyberg, president of Volvo Trucks North America says makes the system simpler for the fleet and the driver.
Volvo Active Driver Assist is always active, providing stationary object detection with stationary vehicle braking, which sends audible and visual warnings if a non-moving, metallic object is detected in front of the truck. Braking assist will be applied – at speeds greater than 15 mph – when the system recognizes the stationary object as a vehicle, independent of whether cruise control is engaged. The driver will receive a warning up to 3.5 seconds before an imminent impact with the stationary vehicle, and, if no action is taken by the driver, Volvo Active Driver Assist will automatically engage the brakes.
When cruise control is engaged, Volvo Active Driver Assist will also help the driver maintain a set following distance behind the forward vehicle. Should the forward vehicle slow down, Volvo Active Driver Assist will alert the driver and, if necessary, reduce throttle to the engine, apply the engine brake, downshift the Volvo I-Shift automated manual transmission and apply the foundation brakes and brake lights to help the driver maintain the set following distance gap based on the speed of the two vehicles.
Using a front bumper-mounted radar sensor and a windshield-mounted camera, Volvo Active Driver Assist offers a series of visual and audible alerts depending on the forward distance of the front object. Cruise control does not have to be engaged for the Volvo Active Driver Assist system to work. Available now for order as an option on new Volvo VNL and VNM models, Volvo Active Driver Assist improves metallic object detection and functionality in hazy, rainy, foggy and snowy conditions.
The radar sensor has a detection range of 22 degrees wide and 500 feet in front of the truck and detects the angle, speed and distance of the object ahead. The radar is assisted by a camera with a viewing angle wider than 42 degrees and can determine the size and lane position, as well as other characteristics of an object.
Ashraf Makki, Volvo product marketing manager – technology, says the wider angle offered by the camera enables the system to further detect objects which may present a danger to the driver.
"The comprehensive Volvo Active Driver Assist system offers camera and radar to offer the most data about an imminent event, helping to mitigate the potential for unintentional collisions or lane changes," he says.
Volvo Active Driver Assist offers alert prioritization in the event of multiple system alerts. When alerts are needed simultaneously, such as lane departure warning and impact alert, VADA will arrange them in order of criticality so the driver can respond accordingly and to minimize distraction.
Volvo also announced today that, as a result of the camera, it now offers an integrated Lane Departure Warning System (LDWS) with Data Capture capability, which alerts drivers when an unintentional lane change occurs. Drivers have the option to deactivate the LDWS for 15 minutes when driving through a construction zone or on more narrow roads. The system automatically reactivates after 15 minutes or the driver has the option to reactivate it manually. Lane departure warnings do not occur if the turn signal is activated or brakes are applied.
Volvo Active Driver Assist is built upon Volvo Enhanced Stability Technology (VEST) – a full stability system that helps drivers to reduce the incidence of rollover and loss of control situations on a dry, wet, snow and ice-covered roadways. This integration of camera, radar and brakes helps Volvo Active Driver Assist deliver advanced driver assistance that includes rear-end collision, rollover and loss of control mitigation.
Relevant driver and vehicle performance data is collected by the camera when a trigger event – such as excessive braking, lane changes without a turn signal, excessive curve speed and extended loss of tracking – occurs. Video is captured for later download.