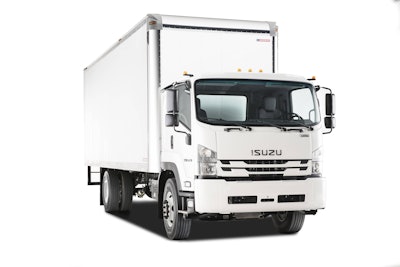 Isuzu Commercial Truck of America on Tuesday released specifications for its soon-to-launch Class 6 FTR model truck.
Featuring a 25,950 lb. GVWR, the dock height FTR will be available in eight wheelbase lengths that range from 152 to 248 inches and will accommodate bodies from 14 to 30 feet long.
The truck's turbocharged Isuzu 5.2-liter 4HK1-TC engine features 215 horsepower and 520 lbs.-ft. of torque mated to an Allison six-speed automatic transmission with power take-off (PTO) capability.
Dana axles will have capacities of 12,000 pounds up front and 19,000 pounds rear suspension and Bridgestone or Continental 11R22.5 tires will be fitted to 22.5″ × 8.25″ steel wheels
The FTR is slated to go into production at a new facility in Charlotte, Mich. mid-next year.