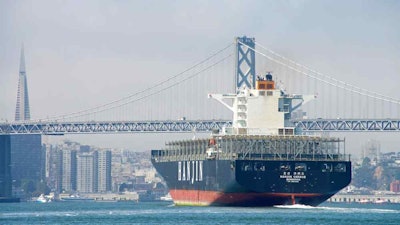 The collapse of Hanjin Shipping, the world's seventh largest container carrier, sent import volumes at two major west coast ports into a tailspin in September, a month usually known for large import increases as retailers stock up ahead of the busy holiday shopping season.
Hanjin's bankruptcy's effect on truck freight, however, appears to be contained and "very lane-specific," says FTR Chief Operating Officer Jon Starks, a transportation economist.
Data from loadboard DAT reveals such lane-specific effects since Hanjin's late-August bankruptcy. Key lanes out of the Los Angeles market have seen rates spike in recent weeks as load-to-truck ratios soared on the heels of Hanjin ships docking and unloading at L.A.-area ports.
Peggy Dorf, an analyst for loadboard DAT Solutions, says her data shows a jump in demand for trucks in the second half of September, despite slumping import volumes at west coast ports. "There was more demand for spot market trucks to move goods out of L.A.-area warehouses, because of the disruption and uncertainty," she says.
The load-to-truck ratio in the Los Angeles market shot up to 10.3 loads to per one truck on Sept. 30, she says, well above the usual 2-something average for the area. Hanjin ships docked at the ports of Los Angeles or Long Beach on Sept. 1, Sept. 10, Sept. 13, Sept. 14 and Sept. 22, she said, prompting load-to-truck spikes on the spot market, where overflow freight primarily lands.
Truckload rates followed the increase in truck demand. The lane from L.A. to the New York City metro area jumped 19 cents a mile in the seven-day period ending Oct. 17, according to DAT. The L.A. to Dallas, Texas, lane rose 9 cents a mile in the same time period, and the L.A. to Phoenix lane rose 6 cents a mile.
"Time is growing short for Christmas freight, and there is a sense of urgency among shippers whose cargo was delayed or re-routed," says Dorf. Modal changes stemming from the Hanjin uncertainty could shift rail freight to trucks, she adds, which would amplify upward pressure on truckload rates the rest of the year and into 2017.
Several Hanjin ships remain idle in international waters, awaiting legal issues to be handled in the U.S. and in Hanjin's home, South Korea. When those ships finally arrive at a U.S. port in the coming weeks or months, there will be a push to process the freight quickly, says FTR's Starks. That could create short-term opportunities for carriers working the spot market.
"Logistics professionals weren't sure, and some of the still aren't sure, when they're actually going to get [their freight]," he says. "That's what's caused the anxiety. When it finally does land, they're going to need to get it moved. It will create some short-term disruptions. They'll have to move it quickly, which could put a little bit of pressure on rates or the need for equipment (trucks) in those specific areas, but it will be a short-lived environment."