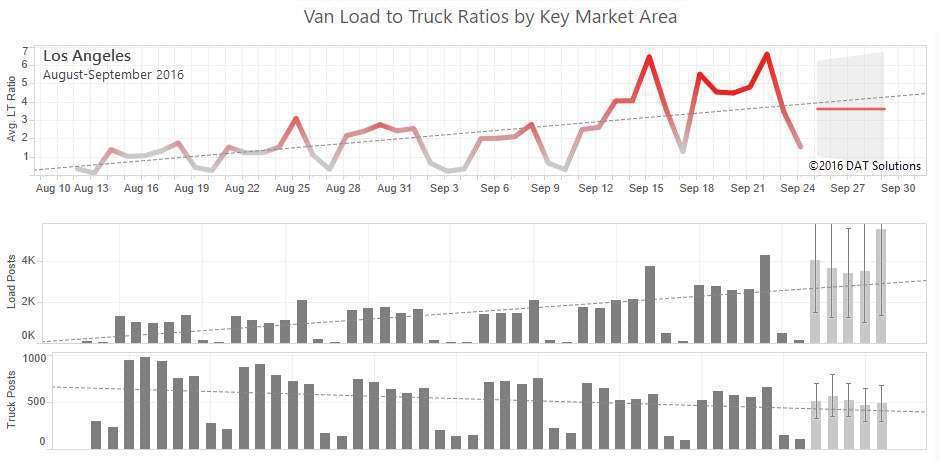 ---
As noted recently on CCJ, the sudden bankruptcy of one of the world's largest maritime carriers, Hanjin Shipping, will send shockwaves through the transportation supply chain. It's likely to also impact trucking rates, says DAT's Peggy Dorf, and spot market activity from recent weeks already shows a trend in that direction, she says.
Last week on the spot market, the load-to-truck ratio for outbound loads in the Los Angeles area shot up, she says, to about 7 load postings on DAT's load board per one truck posting.
"That jump was from the 1.7 to 2.2 range," she said. "It just jumped up the day or two after news reports said ships had been offloaded over the weekend (Sept. 17-18) in Los Angeles and Long Beach. But what caught my attention is the load-to-truck ratio stayed high for outbound from Los Angeles. The average now is 6.6 [to 1], and just a couple weeks ago it was 2-something [to 1]," she said.
Such an imbalance in loads to trucks puts upward pressure on rates, a scenario likely to play out in the coming weeks, Dorf says.
There also could be an influx of freight hit the West Coast in the coming weeks, she says, as shippers divert former Hanjin loads to different maritime carriers or to air carriers. The surge of freight volume could maintain the load-to-truck imbalance and the associated upward pressure on spot market rates, particularly loads originating on the West Coast and headed east.
Domestic shippers may also start moving their inventories east, Dorf says, to make room for the potential influx of freight. "Even if they didn't have cargo [from Hanjin], they know there are going to be delays at the ports," she says. "And they want to prevent stock-outs while they're waiting for the port situation to unfold."