10-4 Systems announced plans for a strategic partnership with project44, a Chicago-based technology company for supply chain connectivity.
10-4 Systems is a Boulder-based technology startup that provides real-time visibility into supply chains. It will integrate project44's one-to-many network of Less-Than-Truckload (LTL) APIs into its Freight Portal, giving its shipper and broker customers access to synchronous and real-time LTL shipment data directly within their current user interface.
The companies say their cloud architects and SaaS products have experienced dramatic growth and market acceptance as their scalable transportation technologies propel large-scale network connectivity.
"10-4's mission from the start has been to leverage an easy-to-use interface to connect carriers, shippers, and brokers in real-time, with up-to-date, dynamic data," said 10-4 CEO, Travis Rhyan. "project44's network is the most comprehensive API platform in the industry, and will enable us to deliver unprecedented levels of end-to-end visibility and flexibility to our fast-growing customer base."
During their launch phase, project44 focused on reaching critical mass in the $37B LTL sector and captured API connections to 99 percent of the domestic market. The partnership will provide 10-4's customers with access to the entire network of LTL carriers for rating, transit time, dispatch, tracking and image retrieval transactions.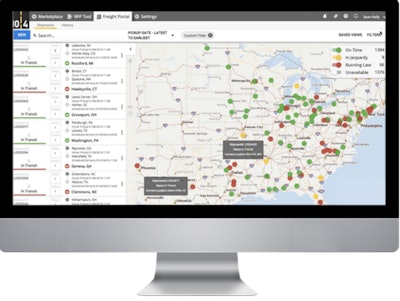 "Our goal is to enable a new level of real-time connectivity and proactive transportation management on a multimodal and global scale," commented project44 President, Tommy Barnes. "This partnership with 10-4 is a key part of that strategy, creating an even more extensive ecosystem of shared API connectivity."
This integration is set for late 2016.