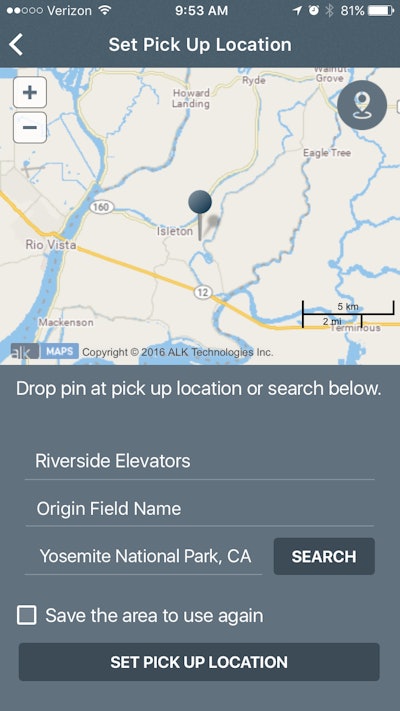 ALK Technologies, a Trimble Company, announced that Delta Valley Ag has incorporated ALK's routing, mileage, mapping and navigation applications into its AgLoads mobile application.
Delta Valley Ag provides agriculture industry professionals with software that simplifies the workday.
"Logistics execution is the foundation for business growth and success in the agriculture industry. AgLoads wants to disrupt the current inefficiency and disorganization of today's processes with a simple, easy-to-use app that provides customers with more time to focus on the bottom line," said Chris Spurlock, co-founder and CEO of Delta Valley Ag.
For farmers, shippers and drivers across the complete agriculture supply chain, the AgLoads mobile dispatch application features:
ALK Maps with PC Miler Web Services for route planning with commercial vehicle routing and restrictions and map visualization for fleet tracking and load assignment
CoPilot Truck in-cab navigation for commercial vehicle specific voice-guided, turn-by-turn directions
By combining ALK Maps with Delta Valley's AgLoads, farmers can visualize loads and grade information (including test weight and moisture levels) as well as receive estimated times of arrival of trucks. Shippers can view their fleet location information.
Truck drivers can use CoPilot Truck offers for on board navigation with map data stored directly on the device. This allows constant access to routing and mapping in an out-of-coverage area.
"Smart planning and efficient operations in farming is vital to business productivity and success," said Dan Popkin, senior vice president, enterprise solutions, ALK Technologies. "Our routing, mapping, and navigation features and functionality can be applied across various industries, and we are excited to integrate with Delta Valley Ag who is offering an innovative mobile dispatch application built specifically for agriculture."
Built on the same source of commercial map data, ALK Maps and CoPilot Truck generate the same optimized routes for both the dispatcher and the driver. The AgLoads application can be set with pre-defined and custom commercial vehicle routing profiles based on vehicle size and class.