Editor's note: This is the third installment of a four-part series on speed management technology. Part one showcased a mobile driver app and part two examined a connected speed limiter system.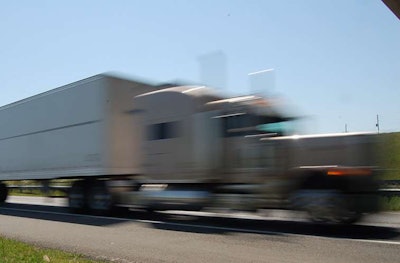 The U.S. presidential election is over, but the agenda of the Federal Motor Carrier Safety Administration remains unchanged — at least for now.
Its speed limiter rule, proposed on Aug. 26, is in the final days of the comment period. The debate continues to swirl around if governing trucks to 60, 65 or 68 mph will improve safety.
Rather than step into that debate, CCJ has been reporting on new and emerging technologies for managing speed behaviors to lower risk. In many cases, these technology advancements go beyond the benefits of speed limiters for safety and fuel efficiency.
Compared to a few years ago, today's mobile fleet management platforms have a much broader set of safety and performance features. This expansion is largely due to the options to use Internet of Things technologies that include wearable devices.
An Internet of Things system is now able to interact with drivers automatically when risky behaviors occur, such as when they exceed posted speed limits or become distracted and fatigued.
Maven Machines designed its mobile fleet management system to use a high quality Bluetooth headset for hands-free communication. The headset is paired with its app, Maven Co-Pilot, that resides on smartphones or tablets and has connectivity to its cloud-based software platform.
Drivers can use the headset to make phone calls, listen to music or get voice commands from their navigation apps.
Inside the headset are sensors that detect subtle head movements such as when drivers look side to side at mirrors, down at gauges, or at objects inside and around their vehicles. The sensors and algorithms in the app can also detect head bobs, or a lack of movement, as early signs of drowsiness or fatigue.
Maven Co-Pilot gives drivers feedback on safe driving and alertness through a Maven Score. The score indicates if drivers are checking mirrors in a timely manner, following the speed limit, and more.
For speed management, fleets can use the system to set a top speed threshold. Through an integration partnership with SpeedGauge, the Maven Co-Pilot app can also receive real-time updates for location-specific speed limits. If drivers exceed speed limits they receive an audible alert through the headset.
The app can be used to record that a driver acknowledges a speed violation by asking the driver to nod his head to confirm.
"Drivers hear what they need to hear and keep moving on to do their job," says Craig Campbell, vice president of sales and marketing for Maven Machines.
Maven recently provided CCJ with an analysis of speed data it gathered from fleet customers that use the system. The data, gathered from August through November, 2016, show heavy duty trucks operate at highway speeds (greater than 55 mph) for 77 percent of the time and travel at 70 mph or more 25 percent of the time.
The safest speed range for trucks is 55 to 59 mph. Trucks have the fewest number of hard brake events and drivers are the most attentive in this range.
The majority of hard braking incidents occur at operating speeds below 50 mph.
The likelihood of hard braking is nearly constant across all highway speed categories (55 – 70 mph) and account for just 11 percent of total brake events.
Driver alertness (Maven Score) is lowest — the least safe — at highway speeds but it is not notably different between 60 and 75 mph.
In summary, Campbell says the data shows no drop in safety risk when trucks are traveling between 60 and 74.9 mph.