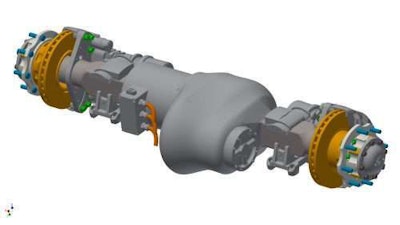 Dana Incorporated introduced Thursday its Spicer Electrified portfolio of fully integrated motor, control, and e-drive technologies that the company says advance electric propulsion systems and drive axles for electric and hybrid vehicles.
Dana President and CEO James Kamsickas says the Spicer Electrified strategy will build on Dana's experience and successes, while further accelerating electric driveline technology and real-world applications over the next decade and beyond.
Currently in production, the Spicer EV Drive for electric vans manages speed and torque from the e-motor to the wheels. Planned for launch in 2018, Dana's new e-axles for electric transit buses and city delivery vehicles feature a fully integrated motor and gear box and leverage the company's vast experience in chassis drivetrain applications.
Bob Pyle, president of Dana light vehicle driveline technologies, says Dana began developing electric-driveline concepts 50 years ago.