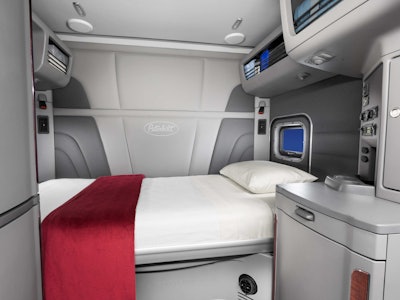 Pay and home-time are likely to forever be atop a driver's list of wants, but the type of truck they drive and the comforts it offers is becoming an ever-critical tool in attracting and keeping drivers in their seats.
Initial survey results for the ninth annual Best Fleets to Drive For survey, produced in partnership with the Truckload Carriers Association, show drivers increasingly value high-quality equipment, and fleets have taken notice.
"Recruiting and retention issues aren't going to be solved by a truck, but it can make [truck driving] a little bit better of a job," says Dave Williams, vice president of equipment, Knight Transportation. "Anything we can do to make a driver feel more at home, safer, more comfortable and more productive is what we are after."
Don Hummer Trucking recently ordered 75 Kenworth T680s after Don personally tested a rental unit for a month.
"I would never ask a driver to do something that I wouldn't do myself," says the founder of the Oxford, Iowa-based dry van carrier that deploys 215 company trucks and 85 independent contractors. "When I was done driving the truck, it was the first time in my career where I wasn't thinking to myself, 'I wish this was there, or this was positioned here.'"
With customers like Knight Transportation and Hummer Trucking increasingly looking for efficiency and comfort, truck makers have responded by boosting in-cab comforts and giving the truck a more home-like feel for drivers.
"Ergonomic dashes where they can reach the switches with easy accessibility," Chris Stadler, Volvo product marketing manager for regional haul applications, lists as a focus of cab design, "and some comfort in the living quarters and in the driving seat as well."
Where OEMs are challenged is taking care of the driver without cannibalizing efficiency.
"What we see with the demand for better fuel economy is [fleets] don't want to sacrifice the performance of these engines," Stadler says.
Jeff Sass, Navistar senior vice president of sales and marketing, says adding to cab-friendly specs is the fact that fleets spend upwards of $5,000 per driver to recruit and train them, making driver retention a top-priority.
"Driver retention equals cost of ownership," Sass says.