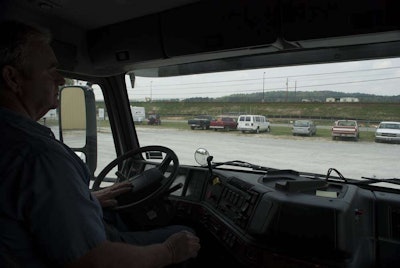 Daimler Trucks North America (DTNA) partnered with Teague, a designer of Boeing airplane interiors, to help develop the interior of the new Cascadia on lighting, storage and ergonomic features and the result was a wraparound dashboard that includes switches and steering wheel controls designed to allow drivers of all sizes to work without leaning and stretching.
Werner Enterprises CEO Derek Leathers says he was struck by the comfort afforded to even the tallest drivers.
"I'm 6' 5" and loved getting inside and walking around and experiencing the roominess and some of the new cabinetry and features," he says.
"The dash layout is cleaner," Max Fuller, chairman and CEO, U.S. Xpress, says of the 2018 Cascadia. "It's easier to reach the controls and buttons and they've made some changes to the seats and now they have two grab handles to get in and out."
Joe Werth, vice president of new product development for Navistar, says in designing the International LT Series, engineers paid close attention to a driver's wingspan.
"We did a lot of work on primary reach zones," he says. "Focusing on eyes on the road time. Trying to avoid the driver having to search for buttons and for information feed."
Many design features that improve cab comfort and productivity – like adjustable seats and steering wheels, ergonomic design, and improved visibility – Russoli says now come standard on newer truck models.
"In fact, in terms of ergonomics, there is no difference between a fleet-spec and owner-operator-spec Mack," he says. "Both feature our wrap-around dash, which puts the most heavily used functions comfortably within a driver's reach."
Hummer, who estimates his driver turnover to be around 30 percent, also specs as many controls as possible on the steering wheel and includes dual air ride seats in all his company trucks.