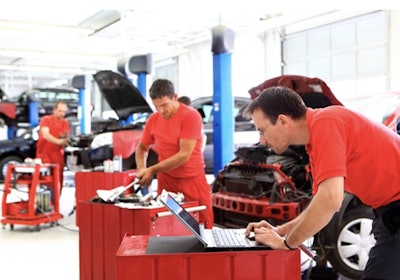 Chevin Fleet Solutions has integrated its enterprise-level fleet and asset management software 'FleetWave' with the National Automotive Parts Association (NAPA) Integrated Business Solutions (IBS) point of sale system.
The integration helps fleets to increase efficiency when processing, managing and tracking parts. It also helps gain enhanced visibility over parts usage and spending, Chevin said in the announcement.
Ron Katz, Chevin senior vice president, North American Sales, explains:
"By integrating NAPA IBS with our FleetWave fleet management software, we are providing a new way for mutual clients to streamline inventory management, including purchasing and accounting practices," he said. "The integration also helps eliminate wasteful paper-based processes, lower administrative burden by ensuring all parts are assigned to work orders, and improve shop and technician productivity."
The FleetWave integration with NAPA IBS creates a three-way connection between fleet management, technicians and parts personnel. A direct link with the proprietary point of sale system is used to electronically send parts requests from work orders within FleetWave.
The automated process drives inventory replenishment from multiple vendors.
By linking parts used to a particular vehicle, the IBS integration ensures accurate data is available in FleetWave for cost and specification analyses as well. With IBS, an on-site parts room staffed by NAPA provides customized and dedicated inventory for fleets. NAPA IBS currently manages nearly 400 parts rooms across the U.S. for government, construction and utility fleets.