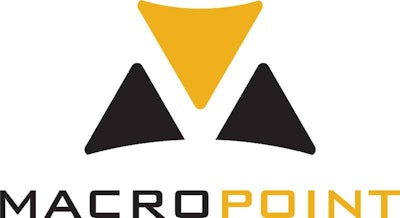 MacroPoint, creator of a multi-modal freight tracking network that provides shippers, logistics service providers and carriers real-time visibility into load status, has received a $44 million investment from Susquehanna Growth Equity, LLC (SGE).
"Having SGE's experience in rapidly scaling businesses will help us realize our vision of providing global, multi-modal supply chain visibility," said Bennett Adelson, CEO of MacroPoint.
The company plans to accelerate investment in product and network expansion, both in the US and internationally.
MacroPoint's network encompasses over 800,000 drivers and over 3,000 paying customers (including JB Hunt, UPS and FedEx), tracking over 2 million loads per year. MacroPoint has integrations with all major TMS and ELD packages.
Its software has control tower functionality and analytics, exception reporting, automated arrival/departure alerts and HOS-related features.
In conjunction with the financing, MacroPoint is adding supply chain and technology experts to its board of directors. The new board members are Dan Dershem, founder and former CEO of LeanLogistics, and Ronald Kasner, CFO of iCIMS, a provider of talent management software with over $100m in annual recurring revenue.