Software that fleets use to manage their shops and maintain equipment may not be getting the same attention as technology to manage drivers, dispatchers and operations.
As equipment and maintenance costs continue to rise, some useful features in fleet maintenance software deserve a closer look.
One is a report that gives visibility to labor utilization. If you are paying technicians for 40 hours a week, how many of those hours are applied towards productive activities?
Labor hours worked as a percentage of hours paid is a useful indicator of whether or not you are getting your money's worth, says Dave Reed, a fleet consultant with Dossier Systems, a provider of fleet maintenance software.
Besides reporting labor productivity, the Dossier system can create standard repair times, he says. A fleet's data might show, for example, that changing a tire should take one-half hour. Running a report on tire repair times for a particular week, a manager could see which technicians completed jobs within the standard time and who went under or over the standard, he says.
"If they are under time, that may not be a benefit as they may not be doing the job completely," he says.
Dossier and other maintenance software systems use industry standard VMRS codes for tracking and reporting repair information. VMRS makes it possible to accurately capture, compare and benchmark a variety of maintenance-related metrics based on equipment specs and more, he says.
Crowdsourcing repairs
Besides tracking labor utilization, fleet maintenance software has a number of built-in tools for improving labor productivity in the shop.
TMW Systems has mobile apps and third-party integration for its TMT fleet maintenance system that eliminate duplicate data entry for drivers and technicians, says Renaldo Adler, TMW Systems' principal of asset maintenance, fleets and service centers.
TMW is developing new mobile apps for mechanics and parts managers that use the TMT system so that each type of worker can update information from anywhere and more accurately capture labor and other repair activities, he says.
TMT integrates with third-party electronic driver vehicle inspection reports (eDVIRs) so that as drivers complete their inspections, any equipment defects noted will automatically create repair orders in the TMT software.
Adler says TMW Systems is in discussions with truck OEMs to have vehicle data and fault codes captured by telematics and remote diagnostics services sent to the TMT fleet maintenance system.
Besides helping fleets schedule and manage repairs, integration of this data could be used by outside service centers. This data sharing model could be used for crowdsourcing breakdown and preventive services on the road beyond what fleets get from their dealer networks, Adler says.
Fast check-ins
Technology providers are chasing an opportunity to streamline the check-in and labor estimating process to expedite repairs, since labor productivity starts before the actual repairs take place.
Navistar dealerships, for example, are now using technology to expedite the check-in process for truck repairs.
All Navistar service departments at 700 International Truck and IC Bus locations in North America use a mobile application called Accelerator Write-Up. The Android mobile application uses a multiple-choice questionnaire to assign corresponding complaint codes. It links the issues to action plans that give service technicians clear direction on how to diagnose and repair specific vehicle issues.
Navistar says the write-up data is accessible to customers subscribing to OnCommand Connection, Navistar's remote diagnostics system. Fleets that use the system can view the complete service history and health reports of their vehicles.
Labor estimating software can also expedite the repair process.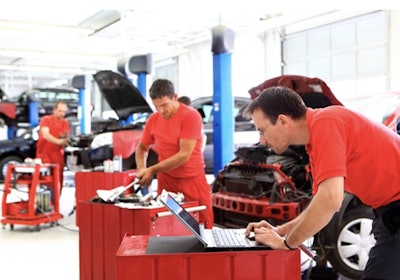 The TruckSeries software from Mitchell 1 includes a mechanical labor estimating module called TruckLabor. The software has estimates based on standardized mechanical labor times generated by Mitchell 1 using methodology it has developed over decades.
Labor categories include engine, brake, electrical, HVAC, steering, suspension, transmission, driveline/axles and accessories. The suite also includes an online diagnostic and repair information resource for shops that repair all makes and models of Class 4-8 trucks to speed up the repair process and increase accuracy, says Kristy LaPage, business manager of Mitchell 1's commercial vehicle group.
Having the right information and software tools is a necessary step to more fully optimize labor resources, and keep equipment moving.