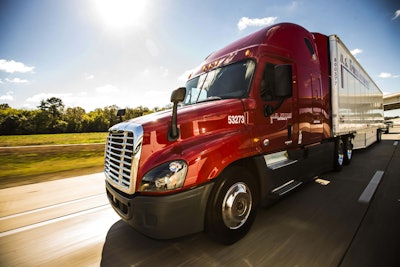 U.S. Xpress (No. 14 in the CCJ Top 250) has accepted an invitation to join the Trucking Alliance, fully known as the Alliance for Driver Safety & Security, beginning in 2017.
U.S. Xpress, one of the country's largest carriers and the 2nd largest privately owned trucking company in the United States, is headquartered in Chattanooga, Tennessee.
U.S. Xpress joins KLLM (No. 33 in the CCJ Top 250) and Cargo Transporters (No. 209) as new 2017 members.
Eric Fuller, President and Chief Operating officer at U.S. Xpress, will join the Trucking Alliance Board of Directors.
The Alliance formed several years ago as an industry advocacy group and lobbyist for regulations it sees as vital to the industry, such as an electronic logging device mandate, speed limiter mandate, raising the minimum liability insurance required of carriers and more. The group also actively pursues changes to driver drug testing protocol and an enhanced driver hiring and training program.
Members include other CCJ Top 250 carriers Maverick USA (No. 76), Knight Transportation (No. 24), J.B. Hunt (No. 6) and Dupre Logistics (No. 128).