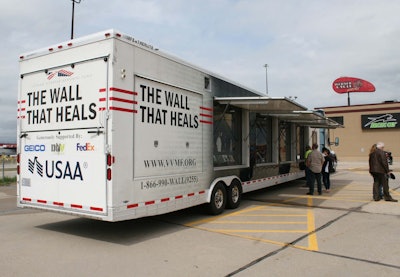 The Truckload Carriers Association announced recently one of its carrier members, Halvor Lines (No. 233 on the CCJ Top 250), will host The Wall That Heals Vietnam War memorial exhibit from July 20-23, 2017, at their headquarters in Superior, Wis., during the exhibit's nationwide tour next year.
TCA also announced that for the third consecutive year, its member carriers and drivers will be hauling the memorial throughout the tour through the group's partnership with the Vietnam Veterans Memorial Fund. TCA will bring the exhibit to approximately 40 communities across the country in 2017. The tour's schedule can be seen here.
The rolling exhibit is a 250-foot replica of the Vietnam Veterans Memorial in Washington, D.C., that bears the names of the more than 58,000 Americans that lost their lives in Vietnam. Along with the wall replica, the exhibit also includes a mobile education center that features photos of service members whose names are on The Wall, letters and memorabilia and more about the Vietnam War.
"Halvor Lines is honored to have been awarded the opportunity to host 'The Wall That Heals' in Superior in 2017. We are a proud supporter of military veterans and their families and look forward to sharing this experience with our community," said Jon Vinje, president and CEO of Halvor Lines.