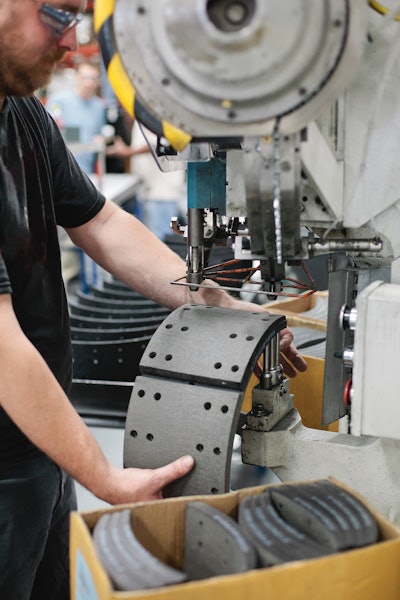 A brand new part isn't necessary in every case, and in some cases it's not practical or even possible.
Used parts are available for many components but there are varying degrees of used, each at a different point in their lifecycle and available at varying prices. Not having a clear understanding of what you're buying can have a self-inflicted negative impact on uptime. 
Recycled parts
Recycled parts are generally the cheapest option but in most cases they offer the shortest lifecycle.
"The recycling of a part is when you buy a part from a junkyard with no warranty," says Terry Livingston, senior director of strategic sales for Meritor aftermarket. "You're just bringing [the part] back and putting in on. Whatever useful life is left is what you're going to get. It's 'plug and play.' You get what you get when you got it."
Recycled parts, Livingston notes, generally appeal to fleets with trucks toward the end of the vehicle's lifecycle.
When truck utilization is high Jim Pennig, vice president of business development for VIPAR, says recycled parts seemingly fall out of favor as fleets are generally more apt to spend the extra money on higher quality parts, "because they need as much equipment as possible on the street."
Reconditioned parts
Usually picked from wrecked trucks, salvaged vehicles or component cores, reconditioned parts get a little extra treatment over recycled parts.
Broken or worn components of the part itself are replaced or repaired but any component that functions correctly isn't usually touched.
"You're only replacing the parts that broke," Livingston says.
Most reconditioned parts, according to HDA Truck Pride Director of Marketing Kristen Phipps, are often older parts that otherwise are hard to find new, or are parts that wear regularly.
"Reconditioned [parts] customers are the ones who take off the parts and need scarce parts, or parts that often have to be rebuilt," she says.
Remanufactured parts
Having gone through a remanufacturing process, these parts are largely considered the best among the "like-new" options. And, Phipps says, in most cases OEM designs dictate reman process.
"Reman parts have tighter tolerances and offer OE form, fit and function," she says.
During the remanufacturing process, Livingston says parts are disassembled and brought back to a standard when the part was originally put into production.
"A lot of components are replaced to get it back to a like-new state," he says. "With reman, you improve your chances of uptime."
Pennig says at VIPAR's brake remanufacturing plants in Utah and Indiana, the company's process and procedure is state of the art, with production quality work.
"Basically, [brake shoes] are remanufactured using industry leading brands and processes including coining that ensures the shoe's geometry meets originally engineered specifications is when we're done with it," he says. "We very much pride ourselves on brand equity products. If we're involved in any type of remanufacturing, we're looking for that best in class.
"They may use the bones, if they are good, but the ancillary parts that go into that product are new parts."
Costs vs. real costs
Recycled parts may be the cheapest option at the cash register, but Livingston notes there is often a big difference in component cost and its cost of ownership. Replacing a cheaper recycled part three times that, for example, would have lasted three times longer if it were remanufactured actually cost more than it saved.
"Most of the money in a repair sometimes is not the part," he says, "it's the labor hours that you put in to do a repair. You can't just look at the price of the part, you also must look at what it's going to be for your labor."
In making the decision on which way to go, Phipps says it's important to lean on trusted sources.
"Quality goes back to who you're buying it from," she says. "If you've got a good line on a good supplier or good rebuilder … that is where you put your faith – in that operation."