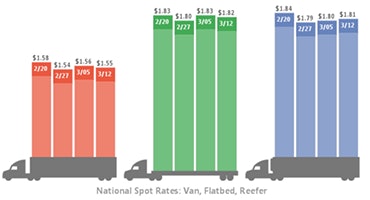 Transportation companies are inundated with bid requests during the fall and winter months. The requests come in waves of emails with attached files. Their customers expect the files returned with pricing data in a few short weeks.
"That alone is a heavy, cumbersome problem for carriers and brokers," says Damon Langley, who used to spend hundreds of hours every year responding to bid requests. During his 25-year career in transportation he estimates he has processed more than 20,000 bids for motor carriers and freight brokers.
Today, Langley works at TMW Systems, a software developer, as the director of solution delivery, business intelligence and decision support. He recently gave CCJ an online demo of TMW's new web-based enterprise bid management application called Engage.Bid.
To date, most of the technology for managing bids is designed for use by shippers and 3pls.
"We are excited to have something carriers and brokers can use," he says.
Engage.Bid is a data warehouse tool with an easy-to-use online interface. When logging in, users see a dashboard view of their current bids and the status of each. A calendar view shows upcoming deadlines and remaining steps for each bid.
Langley demonstrated how users start the bid process by importing a file, or selecting a bid template and going through a series of checklists to customize the bid package to a customer.
Users can import files, add and delete columns, upload company lane-rate matrixes, and much more.
He also showed options to create fuel surcharge and accessorial programs, specify equipment types, and automatically verify mileages for rates all by simply clicking on these options.
When creating a bid package, all of the fields for lane and equipment data are mapped to pricing data from TMW's Market Rate Index (MRI). The index is refreshed monthly from data sharing agreements that TMW has with carriers that use its enterprise software systems.
Overall, the demonstration of Engage.Bid showed how quickly complex administrative activities can be completed and how users gain instant access to market intelligence and historical lane data.
One of the most valuable functions, he said, lets users compare current and historical lane rate data for different customers, in one place, to understand what rates have done and will do in the future, he says.
"You can price with conviction that you are getting the right number," he says.