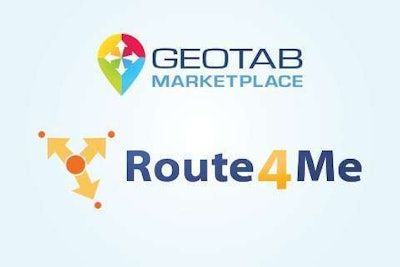 Geotab announced the availability of new route optimization and driver training apps through Geotab Marketplace.
Geotab Marketplace is the go-to source for third-party apps and add-ins that integrate with Geotab's vehicle tracking and telematics platform.
The route optimization app is from Route4Me and uses big data, data science, and machine learning to optimize multi-driver and multi-destination routes, according to a press release.
The key features of the Route4Me and Geotab platform integration are:
A driver's Mobile App that receives routes directly from Route4Me with the added benefit of proof-of-delivery, signature capture, and voice-guided turn-by-turn navigation.
Dynamic Route Optimization that automatically creates multi-driver, multi-depot routes, accounting for variables that include predictive traffic, predictive weather and dynamic orders.
Interactive Customer Alerting – The end customer can see the location of an inbound Geotab-enabled vehicle on their smartphone, as well as receive alerts by SMS, Email, and Voice call notifying them of inbound or scheduled driver visits, while interacting with the system to cancel or delay visits.
Visualize and Analyze Route Performance – To see how vehicles and drivers drive their routes compared to how the optimized routes were planned.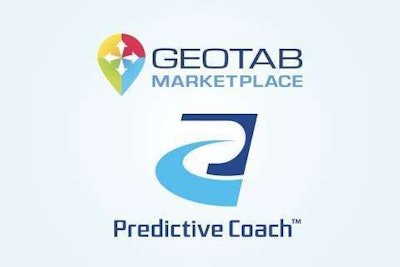 The driver training app, Predictive Coach, is from RMJ Technologies. It uses Geotab telematics data to automatically deliver training based on driver behavior. The training can be completed via a laptop, tablet, or mobile device.
Fleet managers are notified when training has been assigned and completed to alleviate driver behavior management duties.
"We developed Predictive Coach after speaking with fleet and risk managers looking to improve driver safety through remediation. With this integrated solution, risky driving habits are identified, allowing fleet managers to easily set rules and automatically assign training based on their corporate policies," explains Jerome Toliver, RMJ Technologies CEO.