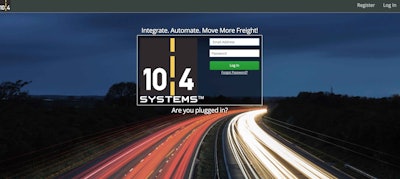 10-4 Systems, a company that provides an automated visibility portal that connects shippers, carriers and brokers to track freight and receive delivery notifications, announced a partnership with Paper Transport Inc.
The two companies are actively working to complete an integration solution that gives Paper Transport and its customers access to 10-4's supply chain visibility software.
Paper Transport Inc., in Green Bay, Wis., says it will be able to provide its clients with the ability to access their shipments in real time.
"Meeting with our shippers, I heard one need repeatedly: our customer service team needs better information to share. For us, the partnership with 10-4 is the step to answer this customer request," said Joe Shefchik, vice president of business development at Paper Transport.
The visibility from 10-4 Systems will include automated alerts and recalculated ETAs for shipments running late, on-time, in jeopardy or late. The carrier will also able to share delivery windows for planning purposes. This information can be shared via mobile, web and desktop notifications.
"Partnering with an innovative company like Paper Transport is exciting for both our company and our mutual customers," said Travis Rhyan, CEO and President of 10-4 Systems. "With the high-quality data provided by Paper Transport, both their customers and our mutual customers will be able to access this data and share it in real time with their entire supply chain."