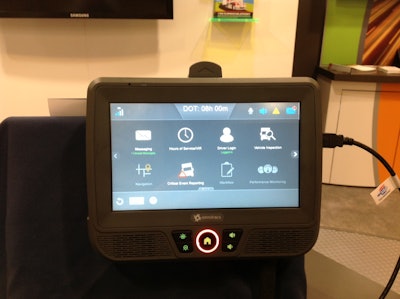 Omnitracs, a provider of fleet management systems to transportation and logistics companies, has added a smartphone mobile application to its Virtual Load View (VLV) product.
The company says VLV replaces manual tracking of shipments by providing access to real-time data and identifying when loads are falling behind schedule.
The product helps brokers, shippers and carriers track loads through their own back office systems.
"Traditionally, brokers have not had direct access to their carriers' telematics, which forced them to rely on costly call centers to plan loads, track the position of trucks, contact drivers and act on problem loads," said Jeff Champa, vice president of product management at Omnitracs.
Brokers and shippers who want to track their loads via Virtual Load View have the data sent to their back office system via integration. Position data about the load is either shared from the Omnitracs Intelligent Vehicle Gateway (IVG) or Mobile Computing Platform (MCP) unit.
If no Omnitracs unit is available, data is provided from the new smartphone application, called Virtual Load View Mobile. Drivers can download the app from the iOS and Android app stores.
On January 18, Omnitracs is hosting a webinar to show how VLV can reduce overhead, receive position updates, save time and improve service. Sign up here to learn more.