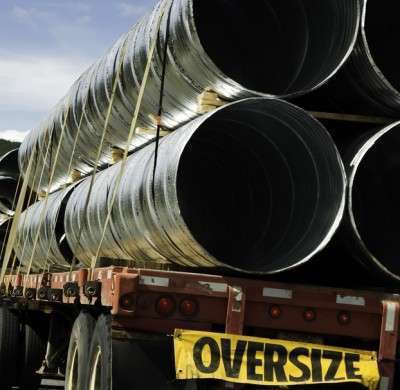 In the last 13 years, as the Environmental Protection Agency (EPA) piled on new regulations and fleets pulled out all the stops to attract and retain drivers, tractors have gotten increasingly heavier.
An unladen EPA 2004 compliant Freightliner Columbia tips the scales at 18,530 pounds – 1,400 pounds less than a similarly equipped EPA 2010 complaint Cascadia.
In the span of six years, the front axle picked up about 1,000 pounds and the rear axles 400. David Hutto, product marketing manager for Frieghtliner on-highway, says that extra 7/10ths of a ton left some fleets and drivers to find other ways to stay under 80,000 pounds gross weight while maximizing payload.
"The result is that our customers have gone to shorter fifth wheel slides, 12 inch sliders down from 24 inch," he says. "Wheelbases in the plus-230 inch range down to 224 inch. 13,200 pound front steer axles in lieu of 12,00 pound axles [for 72 inch raised roof sleeper cabs]."
Since 2010, Hutto says OEMs have worked hard to address weight increases by reducing weight from the factory or offering weight sensitive options.
"Aluminum frame rails and cross-members, new [and] lighter weight steering and drive axles, shift to horizontal exhaust from single and dual vertical exhaust," Hutto says. "And light weight brake drums and wide based tire."
But truck makers aren't the only ones trying to lighten up. Aftermarket and OEM suppliers are also integrating lighter weight offerings into their product suites.
Timothy G. Weir, Accuride's director of public affairs, communications and marketing says an aluminum wheel can offer a weight savings of up to 20 pounds per wheel – that's 360 pounds on the truck and trailer combined.
Light-weighting has become an increasingly popular spec'ing practice for fleets chasing MPGs or looking to pack on more freight, but Mike Roeth, executive director of the North American Council for Freight Efficiency (NACFE), says the premium add-ons don't make sense in all cases.
"Bulk tankers, about 4 to 5 percent of the market, care a lot about light-weighting and [a NACFE report indicates] they will pay $8 to $10 per pound for weight savings," he says, "because they'll just add more payload. Unless you're bulk hauling and grossing out a lot [light-weighting] is still a hard case to make."
Roeth says he believes there is a trend for getting more weight in each trailer, adding he thinks 3PLs and brokers ought to be able to get more pallets in the truck.
"I believe we're becoming more efficient all the time," he says. "We're hauling more tonnage with less trips."
However, general freight haulers are luke warm on paying more for light-weight specs because they struggle to consistently get those configurations on the routes that maximize payback.
"They just don't know where their routes are going to be and who their drivers will be for individual freight trips," Roeth says. "They tend to buy a truck that is sort of a do-all and I think light-weighting suffers because of that."
"Correctly spec'ing a vehicle to match one's vocation is increasingly important as the steer axle weight limit is close without a load," Hutto adds.
The tendency to spec a one-size-fits-all truck, Roeth says, is not only holding back light-weighting, but it could also be piling on unnecessary pounds.
"We should be looking at sleeper size," he adds. "We went 13'6" high and I wonder if we need all that in all these trucks."
Since the introduction of SCR in 2010, Hutto says there hasn't been a significant weight change on the truck despite the fairings and add-ons designed to improve airflow around the truck.
"The industry has increased the amount of aerodynamic features on the vehicles," he says, "which has increased the weight slightly, but not to the magnitude of EPA 2010."
OEMs have worked to cut the weight from EPA-driven add-ons, for example, with the introduction of a single canister after treatment system for 2017 engines that shaves about 20 pounds from the previous design.
Additionally, some fleets are migrating from large liter engines to smaller, lighter engines. Jason Skoog, Kenworth assistant general manager for sales and marketing, says Paccar's MX 11 engine offers a weight savings of 400 pounds versus a 13-liter and is nearly 100 pounds lighter than other 11-liter engines.
"Every new [fleet] program tries to reduce weight, but they trade off weight savings for other things because customers aren't demanding it," Roeth says. "They're demanding better quality, functionality and lower costs."