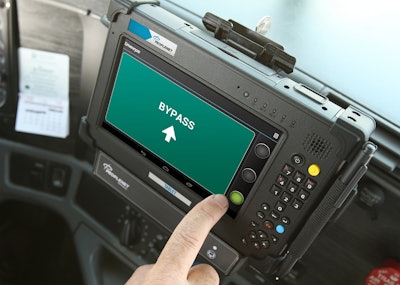 Drivewyze announced that its weigh station bypass service is active at 11 permanent and mobile sites in South Carolina, bringing the number of states it serves to 38 with more than 600 weigh stations and inspection sites across the United States.
The new sites in South Carolina are located on U.S. Interstates 20, 26, 77, and 95, plus U.S. Highway 17.
"Truck fleets and drivers traveling north and south along the I-95 corridor will now find weigh station bypass opportunities on most stretches of interstate from Maine to Florida," said Brian Heath, president of Drivewyze.
With the addition of South Carolina, Drivewyze offers weigh station bypasses in 14 of the 16 states that make up the I-95 Corridor Coalition. The coalition is an alliance of transportation agencies with jurisdiction over I-95 from the State of Maine to the State of Florida, with affiliate members in Canada.
Drivewyze directly accesses federal and state databases in real-time to identify the truck and carrier and determine whether the carrier meets the state's screening criteria. Only if it meets the criteria does Drivewyze grant a bypass. Because Drivewyze accesses the same information state law enforcement officers and commercial vehicle inspectors use, the data is always up-to-date, he said.
The addition of Drivewyze will also help South Carolina's commercial vehicle inspection officers become more efficient at identifying carriers whose safety records warrant the additional scrutiny, Heath said. As a result, they'll be better able to deal with ever-increasing truck freight traffic, especially along U.S. Highway 17 and I-26 – the major transportation routes leading to the Port of Charleston.
The Drivewyze PreClear weigh station bypass application comes pre-loaded on in-cab telematics and ELD devices by Omnitracs, PeopleNet, Rand McNally and Zonar. The application is also available for Android and iOS-based tablets or smartphones.