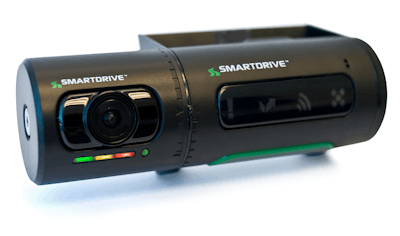 SmartDrive Systems, a provider of driving performance systems that reduce collisions and improve fuel efficiency, announced that Arnold Transportation Services has deployed the SmartDrive video-based safety program.
"Safety is at the core of everything we do; it's not just words on a page," stated Mike Driggers, president of Arnold Transportation. "Safety is a required commitment from every employee and associate. Our investment in the SmartDrive program reinforces our mission by protecting our drivers and equipment, without forfeiting on-time delivery and customer service, which are critically important to the continued growth of our business."
Headquartered just outside Dallas in Grand Prairie, Texas, Arnold is a full-service, regional truckload carrier whose heritage dates back to 1932.
Leadership's decision to adopt a video-based safety system was also rooted in a desire to enhance efficiency companywide.
"Without this technology, we were limited in our ability to proactively address risk," noted Eric Nelson, Arnold vice president of recruiting and safety. "SmartDrive allowed us to identify and target risky behaviors with precision versus taking a broad-brush approach. The SmartDrive program also helps reduce accident frequency and exonerate drivers by providing accurate, fact-based video as if we were at the scene of every on-road incident. We have greatly reduced our claims resolution times by knowing what occurred and why."
To ensure driver acceptance and minimize any potential concerns, the Arnold team took a measured, deliberate approach to rolling out the technology. By engaging with the most experienced drivers early on to secure their buy-in and support, fleet management then relied on veteran employees to help introduce the solution and its benefits to newer drivers.
"I was one of the first Arnold drivers to have SmartDrive installed," commented Dennis Hasse, a 15-year Arnold driver and a 25-year commercial driver's license holder. "Some of my peers thought I was crazy. After a few months, I was involved in an incident in which a shipper accused me of hitting a gate. The video showed that the guard let the gate down before I cleared it. That video kept the company from paying for a gate and it kept me from being at fault. Now, I would not drive without SmartDrive in my truck."
At Arnold Transportation, SmartDrive is not only installed in its fleet but also in some management vehicles, further reinforcing the corporate commitment to safety and transparency.
"I would never ask our drivers to do something that I am not willing to do myself," commented Nelson. "We put ourselves at the forefront of technology so we understand how it works. This not only helps us coach our drivers and ensure open communication, it is also one more way the SmartDrive program helps shape our company's safety program and safety culture."