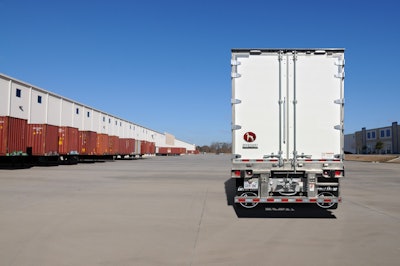 Great Dane has enhanced its underride guard for increased strength and safety in the event of a rear-impact collision.
Great Dane will make the improved bolt-on rear impact guard as standard equipment on all of its trailer models beginning later this year, and will offer a retrofit option on 2007 and later models.
"There was no requirement or incentive, other than enhancing the safety of our products, for Great Dane to make this update," says Chris Lee, Great Dane vice president of engineering. "It is important for us to promote safety, and we do that by including this new design as a standard on all of our trailer product lines – reefers, dry vans and flatbeds."
The redesigned guard was awarded The Insurance Institute for Highway Safety (IIHS) TOUGHGUARD award, which recognizes rear underride guards that are designed to help prevent a range of deadly underride crashes. The IIHS performed three test modes: full-width, 50-percent overlap and 30-percent overlap. Great Dane's guard passed all three tests.
Great Dane's new rear impact guard exceeds current rules in place in the U.S. and Canada as well as proposed new requirements from the National Highway Traffic Safety Administration that would essentially align U.S. underride regulations with Canadian regulations.