The Truckload Carriers Association recognized three individuals with awards during its Monday morning general session at its 79th Annual Convention in Nashville, Tenn.:
Kretsinger awarded TCA's highest honor
Tom Kretsinger, Jr., chairman and CEO of Liberty, Mo.-based American Central Transport, received the TCA Past Chairmen's Award for his career of service to the association and the trucking industry.
"I can think of no person more deserving at this time for this award than Tom," said Keith Tuttle, founder of Motor Carrier Service and 2015-2016 TCA chairman.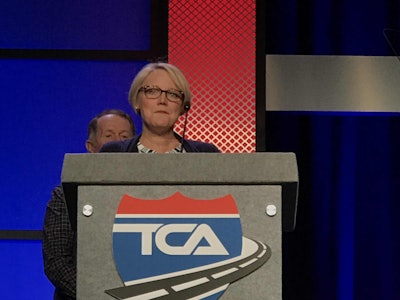 Kretsinger served as TCA chairman in 2013-2014 and has held numerous positions and chaired committees for both TCA and the American Trucking Associations. He also is a past chairman of the Missouri Trucking Association.
Pilot Flying J's Hamilton receives Wreaths Across America recognition
Wendy Hamilton, senior manager of sales and marketing for Pilot Flying J, received the James Prout Spirit of Giving Award from Wreaths Across America for her continued service and dedication to the organization that organizes wreath-laying ceremonies at military cemeteries across the United States.
"The trucking community has been extremely dedicated to Wreaths Across America over the years, but support doesn't come exclusively from drivers," said Karen Worcester, executive director of Wreaths Across America. "Some of the most important contributions come from those behind the scenes, like Wendy. Her commitment to helping Wreaths Across America fulfill our mission to Remember, Honor, Teach has proved invaluable, and we are grateful for the opportunity to honor her."
Hamilton became involved with Wreaths Across America in 2010 and Pilot Flying J has become a significant sponsor since that time. The company began a program where portions of proceeds from coffee sales across the truck stop provider's 700-plus locations go directly to fund Wreaths Across America.
"When I heard about the idea of Wreaths Across America, I fell in love with the concept of honoring our military," said Hamilton. "I am honored to receive the Spirit of Giving Award and will continue to support Wreaths Across America through Pilot Flying J's relationship with truck drivers and by spreading the word throughout the industry."
Sieczkarski named 2016 Highway Angel of the Year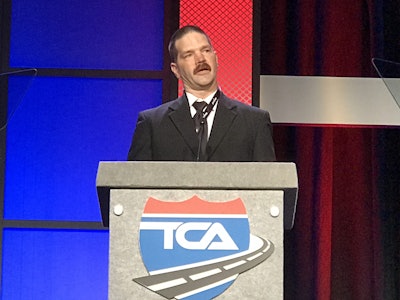 Melton Truck Lines company driver Daniel Siezckarski was named TCA's 2016 Highway Angel of the Year for his efforts to save a fellow truck driver trapped in flood waters during a storm along I-10 near Houston in April 2016.
After several unsuccessful attempts to coax the panicked driver out of the cab by floating a tethered life vest downstream to the submerged truck, Sieczkarski put the life vest on and swam to the driver, convinced him to leave the cab and helped him swim to safety.
"Thank you Daniel for what you do and what you did just while doing your job," said Russell Stubbs, TCA chairman, after the recognition. "You are a true hero."