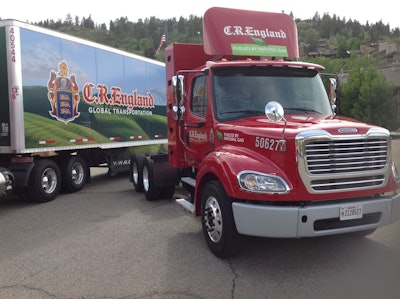 Logistical Labs, a cloud-based supply chain software company, has partnered with C.R. England, the nation's largest refrigerated transportation provider, to offer door-to-door refrigerated intermodal booking through the LoadDex analytics platform.
By accessing C.R. England's TempStack network directly from LoadDex, customers shipping refrigerated products get intermodal rates instantly without having to request a quote via phone call or email. The largest temperature-controlled intermodal service of its kind, TempStack provides the cost-savings, capacity, and environmental benefits of rail transportation with the flexibility of short-haul trucks.
"Our partnership with C.R. England brings significant advantages to LoadDex users shipping perishable goods," said Chris Lee, chief commercial officer at Logistical Labs. "The TempStack network offers substantial costs savings over temperature-controlled truckload rates, improved market awareness, and more capacity options when the market gets tight."
Logistical Labs says its LoadDex platform simplifies rating complexity, improves carrier selection, and leverages data to make smarter shipping decisions. Through the RailDex Intermodal Exchange, LoadDex customers get instant access to freight shipping options from top rail carriers and Intermodal Marketing Companies (IMCs) that they wouldn't otherwise have access to.
"LoadDex makes it easy for shippers and 3PLs to discover the most efficient option when booking a shipment," said Ricky Stover, vice president of sales at C.R. England. "With the ability to compare our TempStack rail options alongside refrigerated truckload and LTL options, intermodal conversion is simplified."