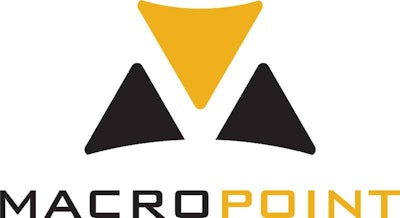 MacroPoint, a provider of freight tracking software for shippers, brokers, 3PLs and carriers, announced at the Transportation Intermediaries Association conference that its platform now includes one million drivers.
"The ongoing growth we've been experiencing at MacroPoint has reached an incredible new milestone," said Bennett Adelson, CEO at MacroPoint. "There are now over one million drivers enabled to provide carriers, brokers, 3PLs and shippers with accurate load tracking information through MacroPoint.
"As part of the MacroPoint Carrier Visibility Network, those drivers are using the latest freight visibility technology available in the transportation industry to provide freight location and status updates on millions and millions of loads annually," Adelson added.
By enabling MacroPoint, drivers have the ability to send location updates on the loads they're hauling to carriers, brokers, 3PLs and shippers without having to download another app or make or receive check calls.