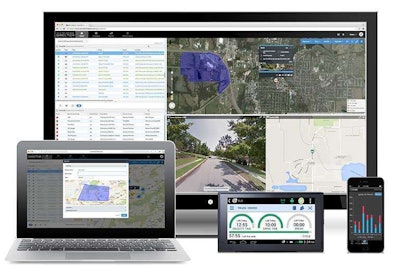 Teletrac Navman, a provider of GPS tracking and fleet management systems, announced its Director ELD product, which meets all currently-published technical requirements of the Federal Motor Carrier Safety Administration's (FMCSA) Electronic Logging Device (ELD) mandate.
The in-cab ELD component of Director, Teletrac Navman Drive, joins the FMCSA's list of certified ELDs.
The company says Director ELD expands upon its ELD Guarantee that promises no-cost firmware and software updates in accordance with compliance changes.
"Our customers can take comfort in knowing we help them minimize operational risks and improve business performance, all while guaranteeing compliance today and tomorrow," said Renaat Ver Eecke, president of Teletrac Navman.
For dispatchers and managers, the Director ELD product gives online visibility to HOS statuses for each driver and early identification of potential violations. It also offers telematics capabilities for vehicle analysis, driver behavior monitoring, geofencing, custom reporting and dashboards along with third party integrations, the company says.
Teletrac Navman Drive is a suite of applications integrated into an in-cab Garmin device with navigation, two-way messaging, Driver-Vehicle Inspection Reports (DVIRs), audible alerts for compliance and post-trip feedback reports and more.
"Safety is a priority in everything Alamo does, and getting ahead of the ELD mandate is no exception," said Gene Davis, compliance supervisor of Alamo Transit Company, a Buzzi Unicem company based in San Antonio. "We're confident knowing Director ELD is and will remain FMCSA-compliant, but also selected it because of how helpful and easy-to-use the in-cab app is for drivers."
Adolfo De La Herran, president of Pointdirect Transport in Fontana, Calif., added that "Teletrac Navman technology provides complete transparency and eliminates common violations, improves communication between drivers and office personnel, and has allowed our company to experience growth while becoming more efficient, which is not easy to accomplish."