"Uber for trucking," long considered a freight-matching unicorn, has come to a kind of fruition, with the ride-sharing giant today unveiling Uber Freight, a matching app aimed at the owner-operator market with a focus on dry van and reefer loads.
The unveiling comes as one of the company's other futuristic initiatives, its autonomous vehicle development subsidiary Otto, is embroiled in a lawsuit with Google, who claims Uber and Otto stole trade secrets related to autonomous truck tech.
Uber Freight Senior Product Manager Eric Berdinis says the ride-sharing giant leaned on its expertise in matching supply and demand and building pricing algorithms in the passenger market, transforming that process into matching freight with owner-operators and small fleets.
"We're technically a brokerage," Berdinis says, "and we do that so we can take ownership of the freight and pay our drivers and carriers quickly."
The company's ability to pay drivers quickly, Berdinis says, is what Uber Freight believes will differentiate the company from similar services already in the marketplace.
"We value [prompt payment for delivery] as one of our big promises to our app users," he says. "Regardless of when the shipper pays us, we'll pay out for any load that is taken out on our app within a couple days, no questions asked."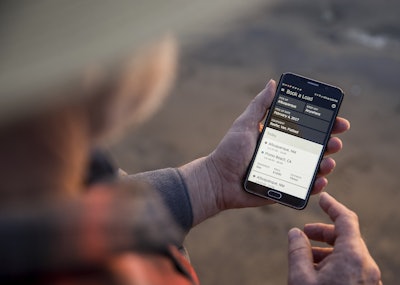 Launched in Beta mode last year, Uber Freight partnered mostly with Texas-based drivers to refine the platform ahead of Thursday's public debut.
"Interest has been overwhelming," Berdinis says. "The challenge has been scaling out to meet the demand."
Owner-operators and fleets with dry van and reefer trailers interested in matching with loads through Uber Freight can sign up via this link.
"We are a registered broker so we do go through the normal vetting process," Uber Freight Director Bill Driegert says.
Uber Freight will not work with Conditional or Unsatisfactory-rated carriers. Others, once approved, will be able to see available truckload dry van and reefer loads, paired with non-negotiable fixed rates to the truck. However, Driegert says feedback from beta users could warrant the company considering rate flexibility and in-app negotiation tools later, as have been utilized by a variety of other brokers in the tech-enabled "uber for trucking" space to date.
For now, Uber Freight inks contract rates with its shippers and delivers what it sees as "market-based" pricing to carriers, based on proprietary algorithms developed in part by the company specialist who led development of the surge-pricing methodology in Uber's passenger vehicle service.
With launch today, the app enables searches for nearby loads based on a user's current location, and likewise in origin/destination pairs, making some modicum of advance load planning possible. Berdinis says that more sophisticated planning features will emerge as the inevitable result of taking user feedback into account.
"One of the tenants of building out Uber Freight is making driver's lives easier and helping them grow their business," Berdinis says. "Our users are everything."
"Our goal is to keep any of our users completely running and completely utilized," Driegert adds.
The app is available for both Android and iOS devices.