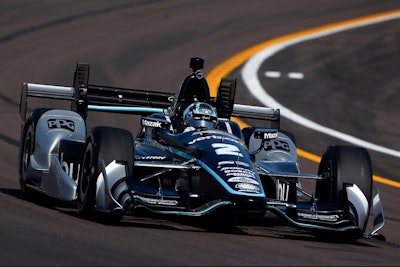 Newth Morris, who heads up strategy for Verizon Telematics, wrote an interesting blog on what businesses can learn from IndyCar's operations, in particular how race teams use connectivity and data to gain a competitive edge and create the ultimate connected car.
May 28 marks the 101st running of the Indy 500. This elite competition "requires cutting-edge innovation in engineering and tech to propel cars around a track at incredible speeds," writes Morris.
Every Indy race car has more than 100 sensors collecting terabytes of deep data, he explains, that is shared with the driver and up to 20 engineers and sports scientists offsite.
"Near real-time simulations run possible outcomes of the race. Every piece of information gleaned is analyzed and changes are made live and in retrospect to increase points such as of fuel and aerodynamic efficiency," he writes.
Morris compares the technology of IndyCar to implementation of a Mobile Resource Management (MRM) software platform and vehicle-wide sensors to get feedback on driver and vehicle behavior.
"Managers that can see which of their drivers are accelerating too harshly or speeding, can coach drivers in real time or after the fact in order to help drivers be safer on the road," he writes.
The tech can also be used to harness another aspect of IndyCar: driver competition.
"This means drivers can compete against others on their team or even nationwide on safety and efficiency measures such as speed limit adherence, braking and acceleration," he continues.
To read the full article, visit Verizon Telogis' blog at https://www.verizonconnect.com/resources/
Driver Josef Newgarden will behind the wheel of the No. 2 Hum by Verizon car at the Indianapolis 500 on Sunday, May 28.