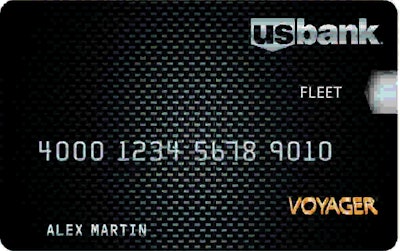 U.S. Bank's Voyager Network Fleet Card has expanded its utility to electric vehicles. Starting this summer fleets can use the card program for electric vehicles (EV) at tens of thousands of ChargePoint charging ports throughout the United States.
ChargePoint is the first EV charging network to accept corporate fleet cards and Voyager is the first fleet card issuer to be accepted at their charging spots.
ChargePoint expects its locations to be ready to accept the Voyager card this summer. U.S. Bank already has customers in the public sector that operate electric passenger vehicles, said U.S. Bank Global Transportation General Manager John Hardin.
Currently, most ChargePoint locations are free to use or heavily subsidized by local utility companies. At most it costs $2 to $5 for a full charge, he says. As with diesel or gasoline purchases, fleets with electric vehicles can use the Voyager card to collect data at the point of sale such as driver ID, odometer reading, location and more.
The card does not need to be swiped to initiate a transaction with ChargePoint. Instead, a fleet would register an electric vehicle with ChargePoint and obtain a key fob. As part of this registration process the user would enter a Voyager card number. The use of the key fob would activate the card station and capture transaction data in the Voyager network, he says.
"Making expense management easy while giving fleet drivers the flexibility to charge at multiple locations on the ChargePoint network is yet another innovation that makes our solution even more compelling to fleet managers," said Michael Jones, vice president of sales for ChargePoint.
The Voyager Fleet Card is accepted at more than 320,000 fueling, maintenance and service locations and used by millions of drivers of fleet cars, trucks and heavy-duty commercial rigs.
Electric Vehicles International predicts the number of electric cars in fleets to reach 20 million by 2020 globally.
To learn more about ChargePoint or find the nearest charging location, access the online locator at www.chargepoint.com