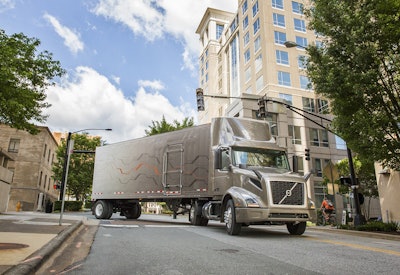 Class 8 truck orders year-to-date have consistently outpaced expectations, and that success has trickled down to a Volvo truck that's not yet even widely available.
Launched in April at ExpoCam in Montreal, Volvo's new regional VNR tractor has been available for order barely two months, but the company's Vice-President of Marketing and Brand Management Magnus Koeck says early demand has been "strong."
"[Order intake] for the large sleeper has far exceeded our expectations," he adds.
Regional haul makes up 28 percent of all Class 8 truck registrations in the U.S. and Canada through March 2017, numbers flat to last year. So far this year, Volvo's 12.3 percent marketshare in the U.S. regional haul segment is good enough to place the company fourth among the major truck OEMs.
The VNR is expected to help drive Volvo marketshare, which has dipped about 1.5 percent thanks in large part, Koeck says, to weakness in the line haul segment.
"Seeing the order intake [to-date this year], we are confident we will regain some of this going into the second half of the year," Koeck says.
The VNR will also help pump more Volvo powertrains into a market where they are already on solid footing. Koeck says 92.5 percent of all Volvo trucks are ordered with Volvo-branded engines and nearly 91 percent are spec'd with an I-Shift transmission.
Further, Koeck believes the expansion of the Panama Canal and on-going upgrades at major U.S. ports will positively impact transport patterns across the country, but he estimates the full effects have not yet materialized. Koeck does note that container and intermodal traffic has already increased.