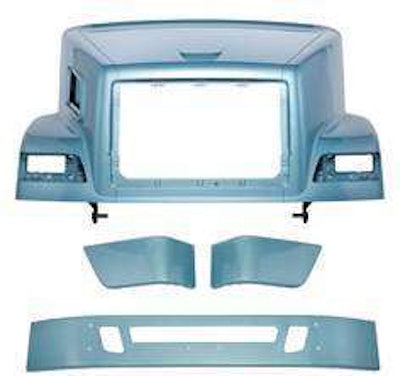 Volvo Trucks North America this week debuted its Genuine Painted Parts Program, which delivers genuine, factory-built replacement parts, custom painted for pre-order or quick turnaround.
The Volvo Genuine Painted Parts Program offers customers and dealers the opportunity to order more than three dozen different parts, including hoods and bumpers, for both the Volvo VNL and VNM models. Each genuine replacement part is painted with the same custom formula and Imron paint that is used at Volvo Trucks' New River Valley facility in Dublin, Va.
Volvo expects to ship all hood and bumper orders within 48 hours of request.
Michael Leipold, Volvo Trucks' parts marketing product manager, says with this program, the company's dealers can stock or express-order custom-painted pieces for fleet customers.
"In some cases, repairs can literally begin on those vehicles as soon as the truck rolls into the shop," he adds. "That can mean the truck is on the road days earlier than was previously possible."
In addition to painted hoods and bumpers, the program also offers bulk part ordering for all models, as well as fully dressed hoods for the VNL. Fully dressed products come complete with mirrors, headlights and grille ready to bolt on and roll.
Full cab options round out the Genuine Painted Parts Program. A complete line of VNL and VNM cabs are available painted, sealed and ready for final dressing at the dealership. An enhanced, semi-groomed daycab is also available for both models. All cab options can be available to ship within 20 days of order.