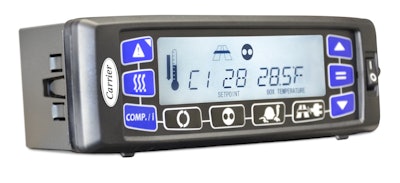 Carrier Transicold has redesigned the Cab Command controller for its Supra truck refrigeration units.
The new controller features an intuitive interface in a refined compact design that conforms to the universal DIN specification, enabling simple and clean installation within a truck cab's dash.
Scott Parker, product manager, truck products, Carrier Transicold, says operators like the Cab Command controller because of its ease of use and functionality.
"Our latest version offers the convenience of in-dash installation or, when used with an optional surface-mount bracket, it can be located on an overhead console, underneath or on top of the dash, giving users a wider range of placement options."
The Cab Command controller features a bright, backlit LCD display that provides at-a-glance operating information, including setpoint, compartment temperature, operating mode and status. A smooth tactile keypad has logically arranged buttons for adjusting temperatures, changing operating modes and more.
The newly redesigned Cab Command controller is now standard for both single-temperature and multi-temperature Supra units. It is also backward compatible to earlier models. Plug-and-play operation makes installation easy for Supra unit owners who require a replacement controller or simply want to upgrade to the new version.