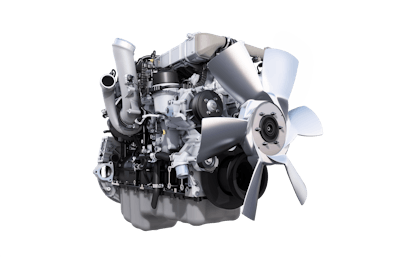 International Truck said Friday that customer shipments of its LT Series and RH Series trucks spec'd with the company's new A26 12.4-liter engine is now underway.
Navistar Executive Vice President and Chief Operations Officer Persio Lisboa says customer feedback has been positive and called the engine's delivery to customers "a significant milestone for Navistar."
Navistar's internal testing shows the new engines deliver up to nine percent in fuel economy improvement over the comparable models built just last year.
Built from the MAN D26 engine crankcase, the A26 produces up to 475 horsepower and 1,750 lb.-ft. of torque from a design that's 600-700 lbs. lighter than a traditional 15-liter big bore engine.
The lightweight design includes the use of a compacted graphite iron crankcase – a North American first for a Class 7-8 truck – shot peened aluminum flywheel housing, composite valve covers and a hollow assembled camshaft that features tool-grade steel lobes for added durability.
The A26 is expected to replace the N13 in Navistar's engine lineup.