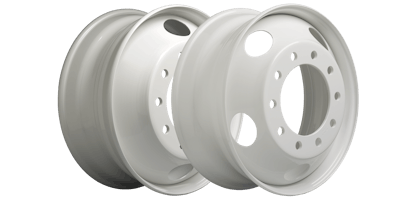 Accuride Corporation is making its ProFinish steel wheel refinishing service available to the North American commercial vehicle aftermarket the company announced Tuesday.
Accuride Wheels President Scott Hazlett says ProFinish, which is now in full operation, will refinish all steel wheel makes with Accuride's advanced Steel Armor coating that delivers best-in-class corrosion protection and carries a 12-month warranty against rust damage.
Accuride is the first commercial vehicle wheel manufacturer to refinish wheels for the aftermarket using the same advanced system used to apply its original-equipment wheel coating.
Hazlett says the company launched its ProFinish in response to the concerns fleet and aftermarket customers had with the coating quality and durability of their refinished wheels, adding the ProFinish process achieves consistent filiform coating thickness under the 3.5 mils required by OEM standards.
Accuride's new wheel refinishing service operates at the Company's Henderson, Ky., steel wheel production facility using the same coating line that applies the Steel Armor powder coating to its original-equipment wheels.
The ProFinish refinishing process begins with an inspection for cracks and other flaws that could compromise structural integrity. Next, the wheels undergo a shot-media blast that removes 100 percent of the paint, regardless of coating type. The clean wheels then undergo Accuride's three-phase Steel Armor coating process:
Zinc Phosphate – The process begins with the application of tri-metal zinc phosphate to prepare the metal for maximum adhesion.
Epoxy E-coat – Next, Accuride applies its best-in-class proprietary formula cathodic epoxy electrocoat (e-coat), optimized for sharp-edge and overall corrosion protection.
Powder Coat – The final step is an exacting application of premium powder coat, formulated exclusively for Accuride to meet the tough demands of the heavy truck environment.
Most wheels of the following sizes are eligible for ProFinish refinishing: 19.5 x 7.50, 22.5 x 7.50, 22.5 x 8.25, 22.5 x 9.00 and 24.5 x 8.25.