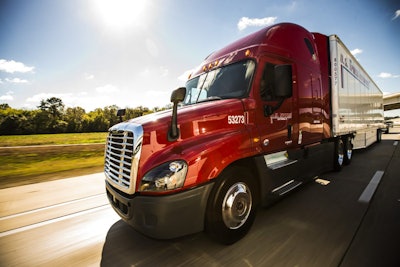 The North American Council for Freight Efficiency (NACFE) this week named the seven drivers who will pilot the trucks and tractors running in the Run on Less roadshow, a first-of-its-kind event intended to show off the fuel economy capabilities of modern trucking equipment.
The drivers and their equipment include:
Henry Albert, independent owner-operator, Albert Transport | 2018 Freightliner Cascadia Evolution Aero Xi sleeper
Bradley Long, Hirshbach  | 2016 International ProStar SkyRise sleeper
Joel Morrow, Ploger Transportation | 2016 Volvo VNM62T630 sleeper
Clark Reed, Nussbaum Transportation | 2018 Freightliner Cascadia sleeper
Tommy Revell, PepsiCo's Frito-Lay division | 2017 Volvo VNM daycab
Mark Risen, US Xpress | 2018 Freightliner Cascadia
Robert Sandoval, Mesilla Valley Transportation | 2018 International LT sleeper
No two trucks are the same, NACFE says, as each fleets selects its own combination of technologies to achieve the fuel efficiency goals.
Axles selected by the fleets include 6×4 axles, 6×2 tags, a liftable 6×2 and a 4×2. Several of the trucks are equipped with 15-liter engines, and others have a 13-liter and an 11-liter engine. All of the trucks will use automated manual transmissions purchased from three different suppliers. Half the trucks will be fitted with wide-base tires and the other half with duals. In addition, fleets have selected different options to assist them with idle reduction.
During three weeks in September, the drivers will haul freight from different locations across the U.S. and Canada and will demonstrate how Class 8 trucks can use different technologies to achieve the best fuel economy possible. Some of the routes have been confirmed. One fleet with team drivers will deliver auto parts from El Paso, Texas, to Ellisville, Missouri. Another fleet will be doing dedicated store delivery in Illinois, Indiana, Michigan, Ohio, and Kentucky. There is also a fleet that will run a semidedicated route from Laredo, Texas, to the Carolinas. Another fleet will do a daily round-trip from Perry, Georgia, to Charleston, South Carolina.
The Run kicks off on September 6, 2017, and culminates in Atlanta during the North American Commercial Vehicle show September 24–28. SmartWay, a program of the U.S. Environmental Protection Agency, has joined as an event sponsor.
The event is being produced by Shell, PepsiCo and NACFE.