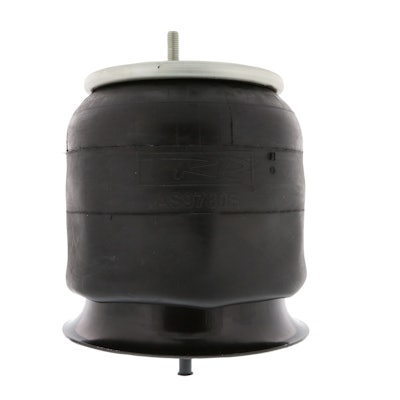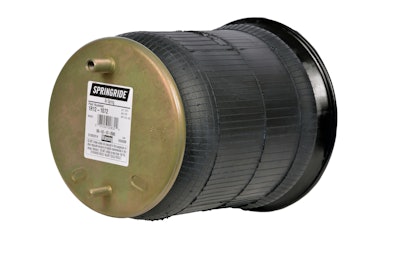 An air spring suspension provides a better ride quality than their steel spring counterparts, but isn't quite as bulletproof when it comes to wear and tear.
Air springs, which should be inspected at every preventive maintenance interval or when a system air leak is detected on the vehicle, need to be visually checked for any splits, cuts or deformities in the flex member, and cracks or missing portions of the lower piston.
Steve Berry, global field service director for Hendrickson, says any "checking" – small cracks formed when molecules of ozone gas react with rubber compounds – can be dismissed as a natural occurrence on the flex member's rubber face.
When ozone attacks the rubber, it frequently causes discoloration and small surface cracks and is especially prevalent in hot urban environments.
Ozone cracking is different from an abrasion, which Firestone Industrial Products Marketing Director Mark Hilburger says would typically be isolated to a particular area versus consistent along the spring's circumference and should be addressed immediately.
Thanks to their position under the truck, air springs can accumulate seasons of road grime and sludge. While there are no specific guidelines for the routine washing of air springs, Berry says a good practice is to wash the entire suspension after winter.
"This will remove the caustic chemicals used for snow removal from all the components, preventing premature corrosion damage," he says. "If an air spring flex member is exposed to petroleum based products, the affected area should be thoroughly cleaned with a mild detergent. This will prevent softening or rotting of the rubber caused by the contact with petroleum."
Hilburger says when washing the rubber, it's best to use a mix of soap and water, avoiding organic solvents, pressure washing or steam, all of which could cause damage.
"Wiping the flex member clean with this solution and clearing any debris from between the flex member and piston will help prolong the life," adds David Brinkman, Stemco's air spring segment business leader.
Among the keys in getting the most life from your air spring is keeping them inflated.
"Drivers sometimes dump the air out of the system to get under certain dock conditions," Hilburger says. "When they drive away [before allowing the system to fully re-inflate], everything is now compressed on itself, depending on parking conditions of the truck or trailer. That causes issues being pinched on the suspension."
Bad shocks can also cut the life of air springs, which rely on the shock to limit their range of travel. Shock absorbers should be checked for signs of leaking hydraulic fluid, broken end connections, worn bushings or cylinders and over extension.
"Periodically, check suspension for proper ride height," Brinkman says, adding the height control valve should also be inspected to see that it is functioning properly and cleaned or replaced as needed. "The dimension should be maintained plus or minus a quarter of an inch to protect the air springs and shocks from over-extension or frequent bottoming out of the suspension."
Steel springs under proper conditions can last the life of the truck, but air springs will likely need to be replaced at least once on extended ownership cycles depending on the application.
The life of an air spring can be determined by measuring the pressure needed to achieve design height. When installing a new air spring, ContiTech says the pressure gauge rating when the vehicle is in a static idle should be noted. The pressure rating should be checked periodically.
When pressure increases by 15 percent to achieve design height at idle condition, ContiTech says the air spring should be replaced.