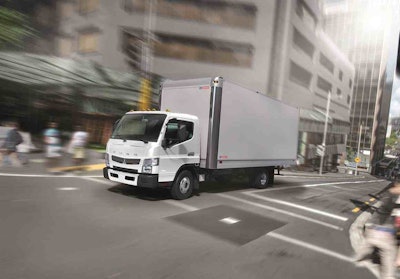 Third-party testing conducted by Automotive Testing & Development Services Inc. (ATDS) put the fuel efficiency of the Fuso FE160 Series medium-duty cabover truck at the top of its field.
The agency conducted a test comparing the fuel economy of the Class 4 Fuso to the fuel economy of an equivalent Class 4 Isuzu NPR-HD and Hino 155.
Measured over a course of suburban and highway driving showed the FE160 consumed 8 percent less diesel fuel on average than the Hino 155, and 5 percent less than the Isuzu NPR-HD. When ECO mode was engaged on the FE160 – a feature not available on the Hino or Isuzu models – the FE160's fuel consumption advantage improved to 10 percent less than the Hino 155, and 9 percent less than the Isuzu NPR-HD.
According to ATDS, testing procedures used were formulated to meet the requirements of the SAE J1321 and SAE J1264 fuel consumption test procedures. The test was contracted specifically for the 2017 MY FE160 to measure effects of new hardware, including the electrically engaged radiator fan and new emissions after-treatment equipment. Competitive models were selected based on readiness and regional commercial availability. Per respective engine emissions certifications from the EPA and CARB (California Air Resources Board), engine power, torque and emissions levels for both the Isuzu and Hino models were equivalent to the latest available for each at the time of testing.
To eliminate fuel gauge and in-dash odometer variability, the in-dash odometers and the trucks' standard fuel tanks and fuel gauges were not used during the testing. Identical auxiliary fuel tanks were mounted in the dry van box on each truck, and each truck was outfitted with Racelogic GPS and Rosco Video GPS data loggers. Fuel consumption was measured by weighing the full auxiliary fuel tank at the start of a run, and then weighing it again after each truck had completed the run. The difference was the amount of fuel consumed by each truck. The scale used to weigh the auxiliary fuel tanks had an accuracy of ±0.02 pounds (1/3 of an ounce).