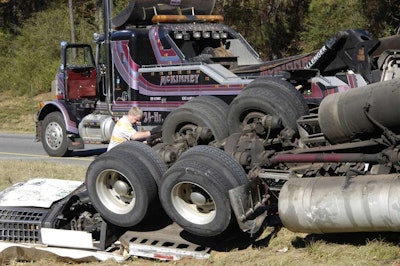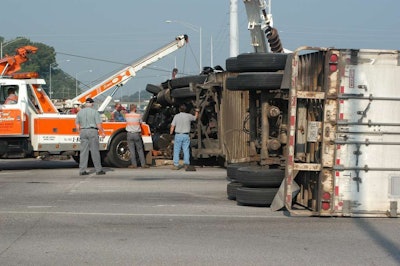 A recent survey conducted by AAA shows that 61 percent U.S. adults feel less safe passing large commercial trucks than driving past passenger cars. About one in four say adding safety technology to large trucks would help them feel better about sharing the highway.
In 2015, heavy trucks were involved in more than 400,000 crashes, resulting in more than 4,000 deaths and 116,000 injuries – up four percent from 2014. Leveraging Large Truck Technology and Engineering to Realize Safety Gains, a recent report published using research from the AAA Foundation for Traffic Safety, says equipping large trucks with advanced safety technologies could prevent upwards of 63,000 truck related crashes each year.
The report examines the safety benefits and costs of installing four advanced safety technologies – lane departure warning systems, automatic emergency braking, air disc brakes and video-based onboard safety monitoring systems – in both existing and new commercial truck trucks.
"There's no question that truck safety technology saves lives," says Dr. David Yang, executive director of the AAA Foundation for Traffic Safety. "This new research shows that the benefits of adding many of these technologies to trucks clearly outweigh the cost."
Researchers found that lane departure warning systems could prevent up to 6,372 crashes, 1,342 injuries and 115 deaths each year. Video-based onboard safety monitoring systems could prevent as many as 63,000 crashes, 17,733 injuries and 293 deaths annually.
Automatic emergency braking, the report says, could prevent up to 5,294 crashes, 2,753 injuries and 55 deaths each year while air disc brakes could prevent up to 2,411 crashes, 1,447 injuries and 37 fatalities.
About 28 percent of survey respondents said the truck's length and size made them less safe versus a passenger car. A truck's blind spot and visibility challenges were cited by 18 percent and 14 percent noted that trucks can drift or swerve in and out of their lanes.
"Adding these safety technologies to the trucking fleet is not only cost effective, but doing so helps to alleviate driver concerns and prevents crashes," says Jake Nelson, AAA director of Traffic Safety Advocacy and Research.