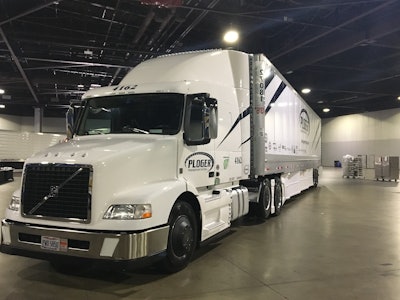 The North American Council for Freight Efficiency's (NACFE) Run on Less initiative – a cross-country long-haul fuel efficiency demonstration – achieved a cumulative average of 10.1 mpg during 99 days of driving the agency announced Sunday at the North American Commercial Vehicle Show in Atlanta. The results exceeded the original 9 mpg goal set by hosts Carbon War Room (CWR) and NACFE.
Seven participating trucks drove a combined 50,107 miles during the 17 day event – which kicked off Sept. 7 and ended in Atlanta – and used commercially available technologies including 6×2 axles, trailer and tractor aerodynamics, engine accessories, tire pressure systems, automated transmissions and low viscosity oils.
Mike Roeth, NACFE executive director, says participating fleets were asked to bring technologies of their choosing that have been placed into their fleets and were planned for spec on future orders.
The trucks – from fleets Albert Transport, PepsiCo's Frito-Lay Division, Hirschbach, Mesilla Valley Transportation, Nussbaum Transportation, Ploger Transportation, and US Xpress – saved 2,877 gallons of fuel and $7,193 against the national average of 6.4 mpg.
Of the 99 days, the highest daily mpg achieved was 12.8, and three different trucks had days over 12.5 mpg. The lowest mpg from a truck was 7.1 on one of the days, and the average for all lowest mpgs throughout the Run was 8.8, just .2 mpg less than the 9 mpg expected over the course of the Run.
Roeth says if the 1.7 million trucks on North American highways today achieved the same level of efficiency as the trucks in the demonstration, it would save 9.7 billion gallons of diesel fuel, $24.3 billion and 98 million tons of CO2 annually. Annie Peter, fleet sector marketing manager for Shell Lubricants, says the transport segment accounts for one-quarter of the world's energy use.
"The thing that we learned here is that you get what you measure, it's about the passion around it and saving fuel is a big part of these particular seven [fleets]," he says.
Each truck hauled its normal freight within their usual lanes and the average gross combination weight over the Run was 55,498 pounds, with 31 of the 99 days over 65,000 pounds. Wind was monitored along each truck's route using OpenWeatherMap.org and it varied from a 6.8 mph average headwind to a 7.6 tailwind. Each driver dealt with the effects of hurricanes Harvey or Irma to some degree.
Average vehicle speed was 54 mph and elevation gain was tracked for each route. One day, a truck travelled 3,270 ft. of elevation gain with 72,960 gross combination weight and experienced an average 2.7 mph headwind and still achieved 9.7 mpg.
Mike O'Connell, senior director of supply chain for PepsiCo, says the company his company was running a 5.5 to 6 mpg fuel economy average as recently as 5 years ago but a greater emphasis is now placed on improving efficiency.
"We've spent a considerable amount of time and effort to spec equipment best suited for our business," he says.
The seven trucks — three Freightliner, two International and two Volvo – feature similar specifications, but all have differences, demonstrating there are many different combinations of technologies that can achieve high levels of mpg.
"[All the trucks] have some differences but this shows there are many different combinations of technologies that can achieve these fuel economy levels," Roeth says.
Drivers Henry Albert, Bradley Long, Tommy Revell, Roberto Sandoval, Joel Morrow, Clark Reed, and Mark Risien traversed much of the country and faced many challenges such as high winds associated with Hurricane Irma, elevations, congestion and heavy loads.
Now that the Run is complete, O'Connell says the challenge is to continue exploring new efficient technologies as they emerge, to continue to share best practices and think beyond the tuck itself.
"There is more to fuel efficiency and sustainability than the equipment alone," O'Connell says.