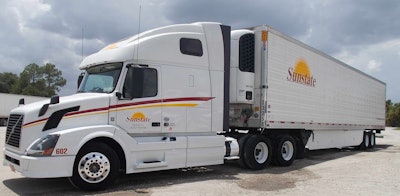 SmartDrive Systems announced a new customer in Sunstate Carriers, a refrigerated truckload carrier operating throughout the Northeast, Southeast and Midwest. Its management decided to skip a lengthy pilot program and install the SmartDrive video-based safety platform across its entire fleet to begin immediately protecting its drivers.
"Having tested multiple video-based safety systems at another company and selecting the SmartDrive program due to its ease of use, customization and near-immediate results, I didn't hesitate to implement it at Sunstate without a pilot," commented Josh Fulmer, Sunstate Carriers vice president. "I liked the ability to start with an exoneration-focused product that fits our fleet's needs today and allows me to move to a proactive safety and coaching program when we are operationally ready."
Based in Florida, Sunstate Carriers operates 130 power units with 150 refrigerated trailers and specializes in transporting temperature-controlled, time-sensitive products.
Drivers throughout the fleet were accepting of video-based safety. "We knew that our drivers were already putting cameras in their vehicles and were familiar with the technology," explained Fulmer. "They understand that we're using the program to know what caused a critical event. If a driver's habits or actions need to change, they know we will be coaching them to help ensure it does not happen again, but also understand the system is designed for their own safety first and foremost."
"We've already had two accidents that were not our fault," commented Fulmer. "All we needed to do was send the video to the other companies and they paid the damages. With the explosion of monster settlements in Florida, I'm glad we have the SmartDrive program to protect us and support our safety culture."