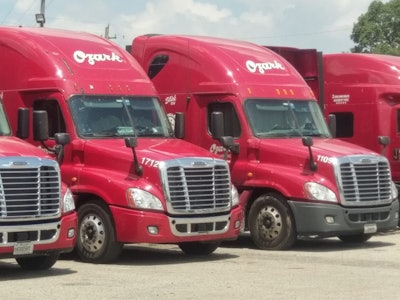 Ozark Motor Lines (No. 120 on the CCJ Top 250) recently rolled out a new pay package for its company drivers that includes an increase in cents-per-mile and accessorial pay.
Starting rates for line-haul drivers under the new package are 41 cents-per-mile for drivers with less than a year of experience up to 46 cents-per-mile for drivers with 5 or more years of experience. Top pay is 48 cents-per-mile.
Line-haul team drivers receive between 23 and 26 cents-per-mile, while regional drivers can start between 38 and 43 cents-per-mile with top pay of 46 cents-per-mile.
As part of the new pay package, Ozark offers drivers insurance benefits from their date of hire, which includes Teladoc access to physicians, dental, vision, life and disability insurance options. Cancer and minimal essential coverage options are also available one month after the driver's hire date.
The company also offers a home time program that gives drivers 48 hours at home after spending 10 days on the road. Drivers can opt to stay out longer in exchange for more time at home.