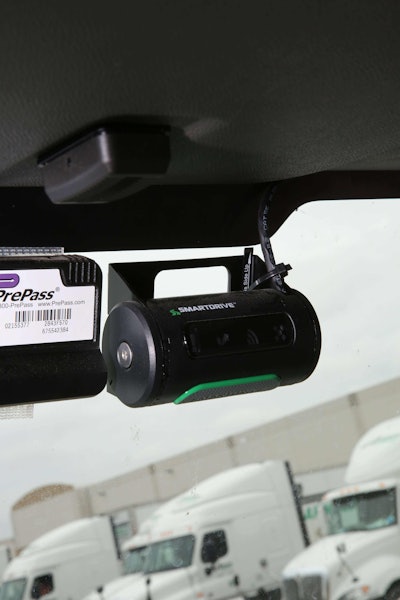 SmartDrive Systems, a provider of driving performance systems, announced new multi-camera triggering capabilities for SmartDrive 360 based on high-risk maneuvers.
SmartDrive 360 is the company's solution that allows fleets to deploy up to four additional cameras around the vehicle. The videos can be offloaded in minutes and, in most cases, reviewed by an expert driving analyst within one hour.
"Since 35 percent of collisions are side and rear incidents, a growing number of fleets are adding more cameras to their trucks. By capturing triggered video across these additional cameras, fleets can now gain immediate visibility to the highest risk — and most costly events — in and around their vehicles," said Steve Mitgang, CEO of SmartDrive.
When a vehicle with SmartDrive 360 experiences a risky maneuver, such as swerve, U-turn, high impact/collision, or the driver initiates a manual recording, video is captured from all four cameras. The video is then automatically offloaded from the SmartRecorder, along with the in-cab and forward-facing camera views.
Previously, these videos were only available on-demand. Now, the immediacy of these videos allow fleets to get expanded insight on those incidents where it matters most, the company says.
An example of SmartDrive 360 in action can be seen here. In this video, the SmartRecorder captures an alert driver who is required to swerve to avoid a collision with a car; he also skillfully avoids a car in the next lane.
"This new capability is available without a costly hardware 'rip-and-replace,'" Mitgang added.
"Not only have our drivers fully embraced the SmartDrive video-based safety program, but they also recognize that additional cameras equal more protection for them in collisions or other incidents where they are not at fault," said Michael Lasko, safety manager, T.F. Boyle Transportation. "Additional video from different areas around the vehicle gives us a deeper understanding of what happens on the road and which drivers need coaching to improve safety."
McLeod integration
SmartDrive also announced an integration with McLeod Software's transportation management software. The integration will allow mutual fleet customers to manage driver records in the SmartDrive System directly from McLeod and automatically associate drivers to driving events.
The result is accuracy of information between the two systems, elimination of redundant activities and speed to deploy the SmartDrive program based on McLeod data, the companies said.
Fleets can automate the creation and delivery of driver schedules to SmartDrive for association with driving events, as well as import and update driver information in SmartDrive based on information and changes made in McLeod. The integration improves efficiencies by leveraging work that has already been done in McLeod, they say.