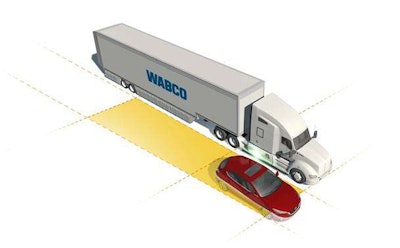 Wabco introduced its OnSide advanced blind spot detection system for commercial trucks and trailers. The short-range radar-based system monitors and provides a visual signal as cars enter the truck's blind spots and provides a side collision warning – either audible or seat vibration – when the truck's turn signal is activated when another vehicle's presence is detected.
The system will be available as a retrofit kit in November 2017 and through major North American truck manufacturers in the first quarter of 2018.
OnSide's radar sensor enables a 160-degree field of view and provides coverage for up to 65 percent of a standard 53-foot trailer. It can eliminate false warnings by distinguishing between moving vehicles and other objects and operates in low visibility conditions such as darkness, fog, rain and snow.
"This advanced blind spot detection system not only provides a solution to help reduce side collisions involving commercial vehicles, but it also provides capability for active collision avoidance for the autonomous vehicles of the future," said Jon Morrison, Wabco's president, Americas.