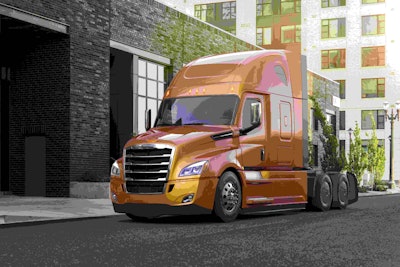 Freightliner has added a 60-inch raised roof sleeper option to 116- and 126-inch BBC Cascadia trucks the company announced Thursday.
Mike McHorse, Freightliner's manager of on-highway product marketing, says the shorter wheelbase and reduced weight versus a 72-inch sleeper offers more maneuverability while still giving drivers a comfortable, spacious area to work and rest.
The new 60-inch raised roof sleeper's interior features a lower bunk with storage underneath, and a choice of either a cargo shelf for additional storage or an upper bunk with a telescoping ladder. There is also a longer wardrobe cabinet for hanging clothes, a large microwave cabinet, an optional flat-panel TV bracket and an area for customer-supplied refrigerators or coolers.
Additional benefits include a one-piece windshield designed for improved visibility. It also uses asymmetric glass construction to reduce chipping and cracking, and it is roped-in for ease of installation and increased uptime; an LED-lit interior and exterior lights, making the lighting system more maintenance-friendly; and ergonomic dashboard with a layout that helps drivers easily access gauges and switches; and Detroit Connect Virtual Technician and Detroit Assurance 4.0 suite of safety systems that seamlessly integrate into the new Cascadia.
The new 60-inch raised roof configuration is available with either Aero or AeroX aerodynamic packages and features the Integrated Detroit Powertrain with either a DD13 and DD15 engine, as well as the DT12 transmission with Intelligent Powertrain Management, and Detroit axles with axle lubrication management.
The new configuration is also available with Cummins X15 engines and Eaton Fuller Advantage transmissions.
The 60-inch raised roof marks the fourth configuration announced for the new Cascadia in the past two months. In September, Freightliner announced 48-, 60- and 72-inch mid-roof XT sleeper cabs in both 116- and 126-inch BBC platforms, each designed for regional overnight haulers and bulk haul and flat-bed applications.
All configurations are now available for order for January delivery.
Freightliner says since the September 2016 of the new Cascadia, the company has received more than 30,000 orders, topping the total number of orders for the first three years after the original Cascadia debuted.