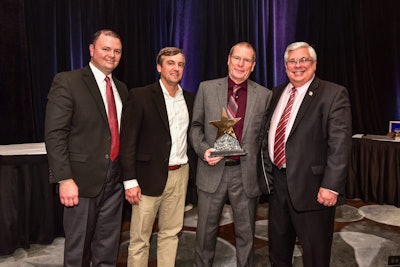 Walmart Transportation driver Gary Plant was recently named the National Driver of the Year by the American Trucking Associations' Safety Management Council.
Plant is in his 41st year as a trucker and has amassed 4.4 million safe miles throughout his career. ATA says he has not been involved in a preventable or non-preventable accident and has never been cited for a moving or traffic violation.
He has been driving for Walmart for 27 years and drives, on average, 125,000 miles per year. He has also earned 11 state truck driving titles and has six top-10 finishes at the National Truck Driving Championships, including two second-place trophies.
"Safety is a reward in and off itself, but at ATA we also believe in recognizing the people and organizations who pursue excellence in their approaches to safety," said ATA President and CEO Chris Spear. "Safety is what defines our industry, and one must look no further than a four-million-mile accident-free driver or a company that dedicates substantial resources to safety investments, to see that safety is what guides trucking's dedicated professionals every day."
Others in the trucking industry honored at ATA's Safety, Security and Human Resources National Conference and Exhibition in Memphis, Tenn., include the Arkansas Trucking Association with the ATA State Excellence in Safety Award; and Fortune Transportation, A. Duie Pyle and Ruan Transportation each earning the ATA President's Award for safety.