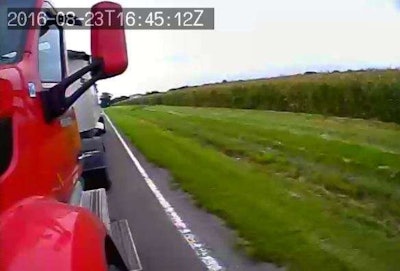 PeopleNet, a Trimble Company and provider of fleet mobility technology, won the 2017 Tekne Award in the Communications Technology category for its Video Intelligence solution.
The annual awards program is organized by the Minnesota High Tech Association (MHTA) and honors Minnesota's best and brightest technology users and developers in innovation, development, education, commercialization and management.
Winners were announced during an awards ceremony on Nov. 15.
"We're thrilled to have our industry-leading Video Intelligence solution recognized with such a prestigious award and are proud to lead Minnesota's innovative technology community," said PeopleNet president Brian McLaughlin.
PeopleNet's Video Intelligence solution was selected by a panel of judges out of three finalists in the category.
"It is an honor for Video Intelligence to be the recipient of a Tekne Award," said Jim Angel, vice president of Video Intelligence Solutions for PeopleNet. "Our team is dedicated to continually evolving and improving our solution to help our customers and their drivers stay safe on the roads."
PeopleNet's Video Intelligence System utilizes forward, side and new rear-facing cameras to create a near 360-degree view around the cab of the truck. Onboard Event Recording (OER) allows video to be triggered by company-controlled settings, including sudden acceleration or hard braking. These videos are then displayed in the PeopleNet Fleet Manager, an online web portal for back-office communications and carrier fleet management functions.