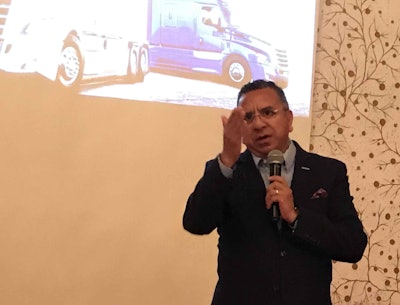 Mexico, the eighth largest producer of trucks in the world and the fourth largest exporter, is playing an increasingly important role at Daimler Trucks North America (DTNA).
With a population close to 123 million and free trade agreements with 46 countries, President and CEO of Daimler Trucks Mexico Flavio Rivera says about 80 percent of the country's freight load is moved by trucks, or roughly $3.1 billion in goods.
"Truck exportation represents 6.3 percent of the country's GDP," Rivera says, adding he expects to see upwards of 2 percent GDP growth this year.
Last year, Mexico produced 150,889 trucks – down from a record of almost 191,000 the year before. Despite the dip, Rivera says, "The presence of the trucking industry in Mexico has been gaining ground."
While Mexico's overall Class 8 truck market is up slightly this year from 2016 by approximately 45 units, Class 8 tractors have dipped slightly year-over-year.
Many different industries have established manufacturing facilities in Mexico, which Rivera says helps drive demand for trucks in the country.
Freightliner owned 39.1 percent of the Mexican truck market through October.
"What is important is if we separate the economy by economic sectors (primary, secondary and tertiary), Freightliner is in all of them."
That divesture has been important, Rivera says, as the construction market in Mexico has waned, and the average age of a truck is 18 years – about three times that of the U.S. average.
Freight tonnage in Mexico this year is expected to settle at 552 million metric tons, and is forecast to hit 593 million next year and 608 million in 2019.
The Mexican truck market is among the most competitive in the world, with 13 nameplates competing for a slice of marketshare. Freightliner, Rivera says, boasts the largest dealer network in Mexico with many of the competing nameplates failing to offer nationwide coverage. He adds the Mexican truck dealer network has invested more than 100 million pesos over the past 12 months in renewing facilities and expanding capacity.
Rivera says Mexican truck customers are sensitive to price, putting Freightliner in a position to educate customers on cost of ownership versus the often lower sticker price of overseas imports.
"What we are doing is that we are working with customers, teaching them about real cost of operation," Rivera says.
The Mexican truck market is currently undergoing a shift away from conventional trucks to cabover models as customers seek better urban maneuverability, improved visibility and simplicity in design.
"Traffic conditions and city conditions … are factors that will continue to have customers looking for [cabover] options. [In] the U.S. market, there's not too much necessity to move to cabover engines. The [Mexican] market is getting more and more with cabover engine trucks," Rivera says, adding that since 2009 nine nameplates have brought cabovers into the Mexican market. One of every five trucks sold in Mexico today are cabovers, with 34,104 of them sold to-date this year.
This year, Freightliner countered the influx of cabover imports with two models of its own – the Class 8 FL 2528 and Class 6 FL 1217. Both vehicles, Rivera says, offer better maneuverability, a reinforced steel cabin, spacious interiors, high corrosion resistance, a proprietary powertrain, an ergonomic design and a versatile chassis that allows for many different configurations.
The new trucks will also help usher in tightening emissions regulations. In 2019, Mexico will boost its emission regulations from EPA04 standards as the country slowly marches toward 2021 emissions compliance. The new standards will require new heavy-duty diesel vehicles sold after Jan. 1 next year to meet emissions standards equivalent to EPA 2010 or Euro VI.