On Friday, Dec. 1, Peloton Technology gave a live demonstration of driver assistive truck platooning on I-96 in the Novi area, west of Lansing, Mich.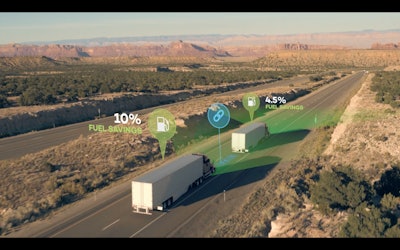 The demonstration featured a pair of Peloton-equipped Volvo VNL670 class 8 trucks platooning at approximately 65 feet, and allowed participants to experience how semi-automated and connected vehicle technology, including Vehicle-to-Vehicle (V2V) communications, assists drivers in a real-world setting.
The demonstration occurred in collaboration with the Michigan Department of Transportation, Michigan State Police, and Michigan Economic Development Corporation.
Working with the major truck OEM's, safety suppliers and leading fleets, Peloton has continued to refine its driver-assistive truck platooning system and is on track to deploy it commercially during 2018.
"The demonstration showed key Michigan leaders the safety, efficiency and mobility benefits that this technology provides to fleets and the public," said Steve Boyd, Peloton cofounder and vice president of external affairs. "We look forward to our ongoing work with the State of Michigan and industry partners across the region as we bring driver-assistive truck platooning into commercial deployment."
Michigan enacted a law in 2016 to enable testing and commercial deployment of truck platooning. The law requires that platooning system providers submit a general operations plan to MDOT and the Michigan State Police. Peloton's plan was approved earlier this year.
Eight states have followed suit and confirmed allowance for commercial deployment of driver-assistive truck platooning: Arkansas, Georgia, Nevada, North Carolina, Ohio, South Carolina, Tennessee, and Texas. Additional states are considering confirming allowance for driver-assistive truck platooning in 2018.
"Many companies in Michigan's automotive industry are playing a key role in the development of connected and automated vehicle technologies like platooning," said Kirk Steudle, director of the Michigan Department of Transportation. "The state is proud to be a leader in paving the way for the deployment and growth of vehicle platooning technologies which can bring great value to the region."
A minority of the states in the U.S. have numeric minimum following distances that apply to commercial vehicles, and a majority of states have discretionary following distance standards which may allow for commercial deployment driver-assistive truck platooning under current law.
Peloton's driver-assistive system allows drivers to form two-truck platoons and keeps the drivers fully engaged in driving at all times.
Peloton's two-truck system provides a robust wireless communications link between the active safety systems of class 8 trucks, enabling pairs of trucks to coordinate their speeds and maintain a safe, aerodynamic following distance. The Peloton system limits platooning to appropriate multi-lane, divided, limited access highways.
The system includes a Network Operations Center (NOC) that intelligently orders pairs of trucks and determines their optimal following distance — typically between approximately 40 and 80 feet—as well as limiting truck platooning to appropriate road, weather and traffic conditions.
A geofencing function will ensure that any truck platoons which are authorized to operate in Michigan can adjust operations before crossing into states that may have different rules for platooning.
The North American Council for Freight Efficiency has validated fuel savings from the Peloton system of 4.5 percent for the lead truck and 10 percent for the follow truck in a two-truck platoon.
The Peloton system requires each truck to be equipped with best-in-class safety features including state-of-the-art collision avoidance, lane departure warning and air disc brakes – making every truck individually safer. The rear truck in a platoon is able to respond to braking by the lead truck in approximately a tenth of a second.